TV's Twenty Questions Features President Humbert and DePauw
November 16, 1953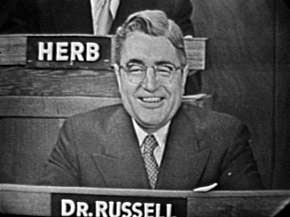 November 16, 1953, Greencastle, Ind. - DePauw President Russell J. Humbert was on the friendly hot seat and the University received a number of mentions tonight on the DuMont Television Network's Twenty Questions. Dr. Humbert was a panelist on the popular, nationally-televised quiz show, two days after the radio version of the program visited the DePauw campus.

[Download Video: "Dr. Humbert Faces the Nation" - 2844kb] "We've been in business about 117 years and we have a co-educational school that has very high academic standing," President Humbert told the program. He described DePauw alumni as "men and women who are leaders in business and the great professions," adding the University's 1,740 students "enjoy the great, wide open spaces of the Midwest at Greencastle, Indiana."
Host Jay Jackson added that DePauw is "a beautiful and very fine school, and if your academic stature is as high as your standards of hospitality, everyone should rate a Ph.D. out of there."
Panelist Herb Polesie interjected, "The good doctor didn't tell you the food is very good at the Fluttering Duck," and mentioned making a trip to Handy's Farm.
During the program, three DePauw representatives -- President Humbert; Robert H. Farber '35, dean of the University; and Howard C. Sheperd '16, president of DePauw's Board of Trustees and Visitors -- presented an honorary Doctor of Humane Letters degree to Florence Rinard Van Deventer, a member of DePauw's Class of 1926.

[Download Video: "Degree is Presented on TV" - 6627kb] She is an originator of Twenty Questions and serves as a panelist on the program along with her husband, Fred Van Deventer. Dick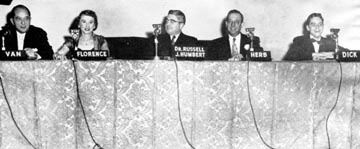 Harrison is also on the panel.
After the honorary degree was conferred, a large group of DePauw alumni in the audience sang A Toast to DePauw, which was also carried by the network.

[Download Video: "Alums Sing Toast" - 3007kb]
Two days ago, the Twenty Questions team was in Greencastle and presented the radio broadcast of the program live from the DePauw Student Union (depicted in photo at right).
Back