California Newspaper Column, 'Personalization Leads to iSolation,' Cites Prof. Jeff McCall '76
September 23, 2007
September 23, 2007, Greencastle, Ind. - A column on how the Internet and other technologies may promote isolation and narrow the variety of information a person receives cites DePauw University professor Jeff McCall. Writing in the Union of Grass Valley, California, the paper's editor, Jeff Pelline, states, "Our society uses iPods to listen to the music we want, we use Tivos to watch only the TV shows we want, and we use online personalization to read only the news we want."
Pelline asserts, "this may be convenient in the short run, but in the long run, it feeds into an egocentric, self-centered mindset that is becoming all too common in our culture."
The column later notes, "As Jeffrey McCall, a communication professor at DePauw University in Indiana told the Arizona Republic: 'What concerns me is that we are developing an information segregation. People are ending up exposing themselves only to the ideas, issues and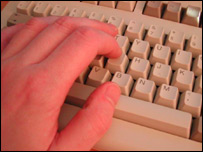 entertainment that suits them. And I don't think that's healthy in the long run.' The newspaper's well-done article on the topic (titled 'iPod era may be turning us into a iSolation nation') went on to quote McCall as observing: 'I think that ends up creating a cultural divide among us, because we don't have as many common experiences. I mean there's going to be less opportunity for generations to understand each other, and people to understand each other socioeconomically.'"
Access the column at the Union's Web site, and read about the original Arizona Republic story in this previous article.
A 1976 graduate of DePauw and author of Viewer Discretion Advised: Taking Control of Mass Media Influences, Dr. McCall wrote an op-ed on parents and television which was published in the September 15 Indianapolis Star.
Back