Thomas Cooper '66 Elected to Board of IPC The Hospitalist Company
September 24, 2007

September 24, 2007, Greencastle, Ind. - Thomas P. Cooper, M.D., a 1966 graduate of DePauw University, has been elected to the board of directors of IPC The Hospitalist Company, Inc. The company also announced today that Dr. Cooper will serve on the board's compensation committee.
Cooper is chairman of the board of VeriCare, a leading provider of quality mental healthcare to older adults in skilled and residential settings, which he founded in 1991. He is also a partner at Aperture Venture Partners, a venture capital firm. Additionally, he currently serves as a director for Kindred Healthcare, Inc. (NYSE: KND) and Hanger Orthopedic Group (NYSE: HGR). Dr. Cooper presently teaches entrepreneurship at the Columbia University School of Business where he is an adjunct professor.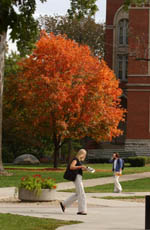 "We are pleased to have such a seasoned executive as Dr. Cooper join our board," says Adam Singer, M.D., chairman and CEO of IPC. "His breadth of experience and deep understanding of the healthcare marketplace combined with his strong entrepreneurial background offers a vital resource for IPC. Both our board and management team are pleased to have his knowledge to tap into as we continue building for the future."
An announcement notes that Cooper "has also founded several healthcare-related companies including Spectrum Emergency Care, Correctional Medical Systems and Mobilex. Dr. Cooper earned his Bachelor of Arts from DePauw University and his medical degree from Indiana University Medical School."
Read more at Yahoo! Finance and in this previous story.
Back