DePauw's Seventeenth President, Richard F. Rosser, Dies at Age 78
September 24, 2007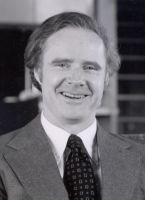 September 24, 2007, Greencastle, Ind. - Richard F. Rosser, DePauw's seventeenth president who led the University from 1977 to 1986, passed away Friday, September 21, in Maine. He was 78 years old.
Under Dr. Rosser's leadership, DePauw restored historic East College, renovated Asbury Hall and Roy O. West Library, and built the Lilly Physical Education and Recreation Center. The University's endowment grew four-fold from $19.4 million to $83.2 million. (below right: Rosser at the 1979 groundbreaking for the Lilly Center)
"It is a distinct privilege to be the new president of DePauw," Rosser said on January 22, 1977, as he was appointed president. "This distinguished institution long has been recognized as one of the great liberal arts colleges of the Midwest."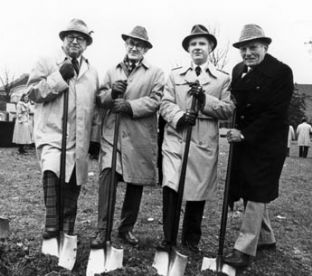 Dr. Rosser led the University until 1986, when he retired and was replaced by current President Robert G. Bottoms.
"Dick Rosser was a great friend and mentor for me," says Dr. Bottoms. "It was he who hired me in 1978 and our friendship continued after he left DePauw. Were it not for Dick's success at the University, DePauw would not be the strong institution it is today."
After leaving DePauw, Rosser became president and chief executive officer of the National Association of Independent Colleges and Universities (NAICU), positions he held until his retirement in 1993. "Dick has been a strong voice on behalf of independent higher education -- on Capitol Hill, with the White House and Department of Education, in the national news media, and on college and university campuses and board rooms across the country," said Robert J. Bruce, chair of the NAICU board and president of Widener University, in announcing Rosser's retirement on February 11, 1993. "His determination, vision, solid common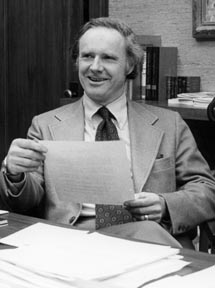 sense, teamwork, and knowledge of issues based on his experience as a private university president, will be difficult to replace. Higher education has truly benefitted from his advocacy and participation in this key national role."
Until recently, Rosser headed The Presidents Group, a consulting group of retired college and university presidents. He served his alma mater, Ohio Wesleyan, as trustee-at-large from 1992 to 2001 and had been a life trustee since 2001. He was a member of Phi Beta Kappa, Omicron Delta Kappa, Delta Tau Delta, Phi Mu Alpha, Pi Delta Epsilon, and Pi Sigma Alpha. Rosser also was an avid photographer, whose award-winning work was exhibited widely.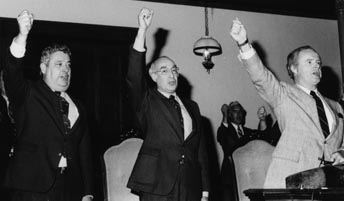 A native of Arcanum, Ohio, Dick Rosser was born in 1929. He graduated from Ohio Wesleyan with Phi Beta Kappa honors in 1951. After earning a master's degree in public administration in 1952 at Syracuse University, he entered the U.S. Air Force as a second lieutenant, studied the Russian language, and served four years in Air Force intelligence before returning to Syracuse in 1958 to pursue his doctorate in political science. (at right: President Rosser leads a toast to DePauw as the University's $90 million sesquicentennial fundraising drive was launched in 1983)
Rosser was assigned to the teaching faculty at the Air Force Academy in 1959, receiving his Ph.D. in 1961. He was appointed head of the academy's political science department in 1967, and a year later was promoted to the rank of colonel and received a presidential appointment as a permanent professor. Rosser retired from the Air Force Academy in 1973 to become dean of the faculty at Albion College in Michigan, and held the position until coming to DePauw as president four years later.
A recipient of 10 honorary degrees and awards, Dr. Rosser authored the textbook Introduction to Soviet Foreign Policy as well as numerous education articles.
News of Richard Rosser's passing is being reported by media outlets across America via this Associated Press report.
Back