NY Times Reports $128 Million Holton Gift to DePauw
August 19, 1999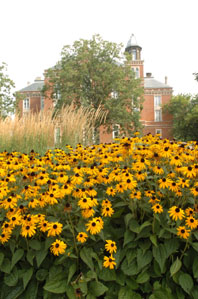 August 19, 1999, Greencastle, Ind. - "DePauw University in Indiana said yesterday that it had received $128 million in stocks, one of the largest gifts bestowed on an American university, from the estate of two former students who never graduated from DePauw," begins a story in today's New York Times. "The donors, Philip Holton and Ruth Clark, met at DePauw in 1925 as members of the class of 1929, but left two years later. Mr. Holton transferred to the University of Illinois because it had an engineering program that DePauw lacked, and Miss Clark dropped out to be with him. They were married in 1930 and, DePauw's president, Robert Bottoms, said, always felt a strong connection to the university."
Jacques Steinberg writes that Philip Holton, who retired in 1975, was president and chief executive of the Inland Container Corporation. The couple's gift "ranks among the 10 largest to an American university."
The Times reports, "When Dr. Bottoms became president of DePauw in 1986, he said Mr. Holton estimated the value of the trust at $1.5 million. After Mr. Holton died in 1995, a month shy of his 88th birthday, the trust reverted to his wife. When she died in 1997, at 90, the university was told that the trust was worth about $18 million, Dr. Bottoms said. Soon after, though, Dr. Bottoms said he was stunned to learn that DePauw had been named as the beneficiary of half of the Holtons' estate, much of it invested in Time-Warner stock that Mr.
Holton had first received when his company was bought by Time Inc. in 1978, before being spun off in 1983. At the time of Mrs. Holton's death, the full estate was valued at $125 million, Dr. Bottoms said. But in the two years it has taken to transfer half of the estate to DePauw, the value of Time-Warner stock has climbed, doubling the estate's value."
DePauw's gift from the Holtons will fund approximately 75 scholarships a year "to be awarded on the basis of need, as well as merit, to students from Indiana, Illinois, Michigan, Wisconsin and Ohio, as stipulated by Mr. Holton in long conversations with Dr. Bottoms."
Read the complete article at the newspaper's Web site.
Source: New York Times
Back