Two Alums -- Christopher Felts '91 and Anne Peckinpaugh '00 -- Among 'Indy's Best & Brightest'
September 25, 2007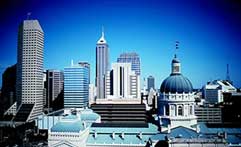 September 25, 2007, Greencastle, Ind. - Two graduates of DePauw University are finalists in "Indy's Best & Brightest," a competition honoring young professionals in Central Indiana (age 40 and under) who are making their mark in the community. Christopher Felts, a partner at Barnes & Thornburg LLP and 1991 DePauw graduate, is among the honorees in the law division, while Laura "Anne" Peckinpaugh, senior consultant at BearingPoint and 2000 alumna, is a cited as a young technology leader.
The finalists, 100 in all, are featured in a supplement to today's Indianapolis Star. They were nominated by their colleagues based on their effect on the workplace, high standards, and professional
accomplishments. Winners will be announced at a dinner Thursday night.
Christopher Felts (pictured at right) "uses the international experience from his work for former Gov. Evan Bayh and the Indiana Department of Commerce to help clients do business outside the U.S. and help foreign countries do business in Indiana," notes the newspaper supplement. "He is a resource for the firm's clients on international contract law and state compliance with contractors. Felts was named a Sagamore of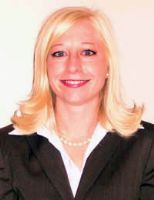 the Wabash, the state's top honor."
Anne Peckinpaugh, 29, "turns clients with challenging projects into raging fans," declares the text. "She understands the client's needs and translates those into complete functional requirements that are easily understood by the software programmers. Peckinpaugh has contributed greatly to the success of a financial-reporting software application with a high priority within the Department of Defense. Professionally, one of her greatest skills is her ability to mentor newer team members. Her vacations often are spent on mission trips."
Learn more about Indy's Best & Brightest by clicking here.
Back