Gift by Prof. Emeritus David Field Creates Mary R. Field Writing Professorship
September 28, 2007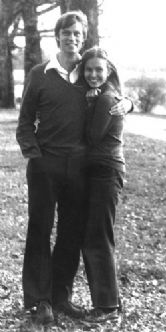 September 28, 2007, Greencastle, Ind. - An endowment gift by J. David Field, senior professor and professor emeritus of English at DePauw University, will fund the new Mary R. Field Distinguished University/Visiting Professor of Writing. Appointments to this chair will bring nationally recognized and practicing writers to DePauw as visiting and/or permanent members of the faculty.
Mary Rogers Field, who was the professor's wife for 29 years and mother of their children Marion and Jane, passed away on November 29, 2005. A photographer, she collaborated on a book of children's poetry and art. Despite being paralyzed and confined to a wheelchair after 1990 due to spinal cord damage, Mary Field was also extremely active in a number of community organizations and events, and in October 2005 was awarded the Frances Hickman Award for exemplary dedication and service to the Greencastle branch of the NAACP, of which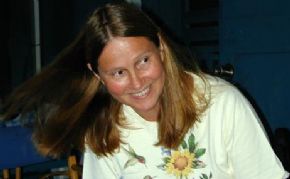 she was a member of the executive committee.
"Mary loved people," recalls her husband, "the congregation at St. Andrews, her tribe of mothers who call themselves 'Mothers Acting Up,' and especially our children, Marion and Jane. An artist herself, Mary always encouraged our girls' creativity. We had no television, specifically because she thought that they would put that TV time into art. And art, for Mary, included stories -- she told them tales every night when they were young, and soon they were telling us stories. She would save the notebook pages with the first stories they wrote. She claimed that she didn't read much, but she was a a secret reader."
David Field continues, "Years ago, we lived next door to a novelist named John Casey in Charlottesville, Virginia. As a way of preparing for the readings coming up on a book tour, he would read aloud from his novel-in-progress to Mary,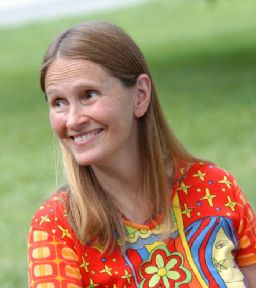 who sat on the floor, listening, rapt. After Mary got sick, John started sending her tapes of himself reading from the novel which he was writing at the time. Mary was isolated because we didn't yet have an elevator, but, each evening, as I went upstairs to sleep near our very young children, Mary would be lying on the couch, glowing as she listened to John's voice. She loved the writers at DePauw and read all their books, stories, essays, and poems. She didn't read these works passively: she studied them, thought about them, and even argued with them."
The professor, who joined the DePauw faculty in 1982 and retired at the end of the 2005-06 academic year, is teaching a class this semester. He notes, "I had intended to keep my donation anonymous until my death, but, after Mary passed away, I knew that this endowed chair of writing would be a fitting memorial to her."
"I want to publicly thank David Field for his generous support of DePauw," says President Robert G. Bottoms. "He has served the University as an exemplary teacher and now his gift serves both to memorialize a woman whose life enriched this community and assures the continued excellence of our creative writing program."
"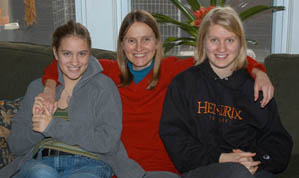 This extraordinary gift will further strengthen what DePauw offers, bringing as it will a succession of nationally recognized writers to enrich the campus life and contribute to courses for our students," adds Neal B. Abraham, executive vice president of the University. "DePauw already has one of the premier creative writing programs at a liberal arts college in the United States, with nine full-time faculty members who are accomplished writers and teachers of writing, and a remarkable series for visiting writers (the James and Marilou Kelly Writers Series)."
Dr. Abraham, who is also vice president for academic affairs and dean of the faculty, points out that a writing major is consistently among the four most popular majors among DePauw students.
"The department
is honored and pleased to be given this gift, and news of this has touched deeply those of us in the department who knew Mary," says Joe Heithaus, associate professor of English and chair of the department. "She was a person of great warmth, intelligence, and grace. I remember noting in the days around her funeral how many people from all walks of life in Greencastle claimed that Mary was their best friend. She was extraordinary in that way. Though, as Tom Chiarella noted in her eulogy, 'she was no glass of milk.'
Heithaus adds, "David Field is a legend in our department as a teacher whose questions probe into the most fundamental human matters such as what is beauty? what is the mind? He has always brought into his literature and creative writing classes a sense that writing in any form is far more than communication, it is art. A gift of this magnitude from him means a lot to all of us."
The department chair concludes, "On a personal note, Mary is my youngest daughter's godmother. Like so many people in our department, the University, and the community of Greencastle, Mary had a profound influence on my life and the life of my family. I'm proud and lucky to have a part in helping to shape this gift."
The English department will begin working on strategies for recruiting the inaugural recipient of this position over the coming months. The first appointment could be made for as soon as the 2008-09 academic year.
In 2002-03, David Field was the recipient of the Exemplary Teaching Award, which is given jointly by DePauw University and the General Board of Higher Education of the United Methodist Church. Dr. Field also received the Mr. and Mrs. Fred C. Tucker Jr. Distinguished Career Award in 2005 and the Joan Westmen Battey Distinguished Teaching Award in 1996.
Members of DePauw's writing faculty have received much external acclaim for their work. Eugene Gloria's first collection of poems, Drivers at the Short-Time Motel was selected for the 1999 National Poetry Series and won the Asian American Literary Award and his recent Hoodlum Birds was praised by the Washington Post. Professor Heithaus won the 2007 "Discovery"/The Nation poetry contest. The New York Times described Barbara Bean's Dream House as a "quiet and lucid first collection of short fiction." Lili Wright's Learning to Float is, according to Booklist, "daring, reflective, and self-deprecating in a most
endearing manner. Rick Hillis is an author of fiction and poetry; his first collection of short fiction, Limbo River, won the Drue Heinz Literature Prize, and he has sold and optioned screenplays. Chris White's play, Rhythms, was awarded the Helen Hayes Award for Outstanding New Play and was recently produced and performed at DePauw and Indianapolis. Visiting professor of creative writing Tom Chiarella is the author of three books; a National Magazine Award Finalist, he is fiction editor and writer-at-large for Esquire magazine.
The Richard W. Peck Professor of Creative Writing, endowed by the Newberry Medal-winning and bestselling author of books for young people and 1956 graduate of DePauw, honors the department's tenured creative writers on a rotating basis.
Back