Longtime Football Coach Tom Mont Still Wisecracking, Reports Phoenix Newspaper
September 26, 2007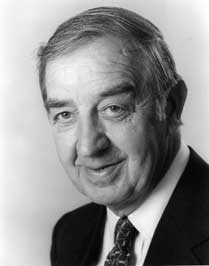 September 26, 2007, Greencastle, Ind. - "Football has given Tom Mont a chance to meet world leaders such as Queen Elizabeth and Dwight D. Eisenhower," begins a story in the Daily News-Sun of Phoenix, Arizona. "The game has also given him plenty of material for his self-deprecating humor," writes Rich Bolas of Mont, who came to DePauw University in 1959 as head football coach and retired in 1987 as athletic director. The story recounts Mont's speech yesterday to the Kiwanis Club of Sun City West in which he managed "to leave his audience in stitches," reports Bolas.
Coach Mont may be retired, but his legendary quips are still employed full-time. "My wife and I moved here from Greencastle, Indiana, a rural community in Indiana," he told the audience. "Our bathroom in Indiana caught fire the day we were scheduled to more here. Fortunately, the fire never reached the house."
The article details how Mont, a star quarterback at the University of Maryland, went on to play for the NFL's Washington Redskins, backing up legendary quarterback Sammy Baugh. Mont remembers his first professional game, before 96,000 fans at the Los Angeles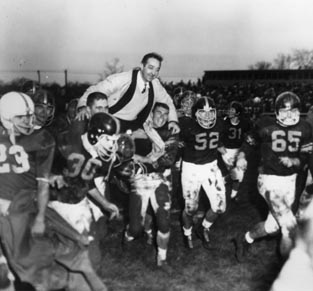 Coliseum. "I had missed training camp with the Redskins so I wasn't expected to get into the game," he recalled to the Kiwanians. "They had me listed as the No. 2 punter. Well, the No. 1 punter gets hurt, and I have to go into the game. This was in the day when helmets didn't have face masks. I was so nervous I put my helmet on backward. When I got on the field, the referee asked me if I was coming or going."
Mont went on to become head coach at Maryland, and then found a home at DePauw. In his speech, Mont spoke of the joy of coaching one of college football's greatest rivalries, the Monon Bell Classic. Bolas writes, "DePauw and Wabash will meet on the gridiron for the 114th time in history this fall, and Mont coached in... those games between 1959 and 1976. 'It really was an honor to coach in those games,' said Mont, who later became the athletic director at the university."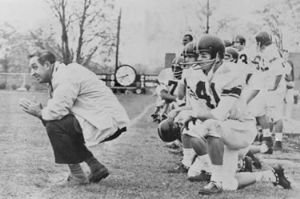 Access the complete text, as well as two photographs from Tommy Mont's speech, at the newspaper's Web site.
The former coach also served up jokes in this 1987 television appearance.
Mont amassed a 12-5-1 record in Monon Bell battles with Wabash, and figures prominently in several of the "Monon Memories" from his era. You'll find a roster of the video clips by clicking here. He is also a member of the DePauw Athletic Hall of Fame, as well as the University of Maryland and state of Maryland Athletic Halls of Fame and the Indiana Football Hall of Fame.
Back