Millsaps Tops Football Tigers, 35-17
September 29, 2007
September 29, 2007, Greencastle, Ind. - Millsaps College claimed today's battle between two undefeated Southern Collegiate Athletic Conference rivals, as the defending SCAC champions defeated DePauw, 35-17. The Majors were led by last year's SCAC offensive player of the year, quarterback Juan Joseph, who completed 32 of 56 passes for 475 yards and five touchdowns. The two teams played in front of a Family Weekend crowd of more than 2,000 at Blackstock Stadium.
DePauw drops to 3-1 overall and 2-1 in SCAC play; Millsaps improves to 4-1, and 3-0 in the conference.
The Majors entered the game averaging almost 39 points per game.
After being held to seven points in the first half, the visitors erupted in ths second half. Millsaps amassed 528 yards of total offense on the day, and held DePauw to 58 yards on the ground on 32 rushing attempts.
The Tigers all-time leading rusher and scorer, senior Jeremiah Marks, was held out of the game for a second consecutive week because of an injury.
After a scoreless first quarter, DePauw dented the scoreboard when Brendan Smith connected on a 36 yard field goal early in the secind period. On the drive that followed, a 36 yard field goal attempt by Millsaps was blocked by the Tigers' Alex Fitch.
With 7:40 remaining in the first half, Millsaps quarterback Juan Joseph found Louis Conley in the end zone for a 7 yard touchdown pass, and the visitors took a 7-3 advantage.
It stayed that way until 6:12 remained in the third quarter, when Joseph found Burt Pereira wide open for a 30 yard score.
Joseph, who was the SCAC offensive player of the year last season, made it 21-3 when he lofted a 22 yard touchdown pass to Conley with 14:24 left in the game.
About two minutes later, Joseph's aerial act gave the Majors a 28-3 lead when he found Eric McCarty in the middle of the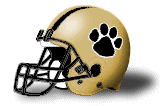 field, and the receiver romped 62 yards for paydirt.
A nine play, 71 yard DePauw drive which took only 1:27 off of the clock ended with a 3 yard touchdown pass from quarterback Spud Dick to Alex Koors.
But the Majors offense wasn't finished. Joseph tossed his fifth touchdown strike of the day, a 17 yard connection to Josh Maharrey, returning the visitors' lead to 25.
The game's final score came with 45 seconds remaining, as Spud Dick plunged in from 3 yards out.
For comprehensive coverage of today's game, including statistics and a detailed report, visit the football team's Web page.
Back