Prof. Hilary Eppley Among 7 Inorganic Chemists to Receive NSF Grant
October 1, 2007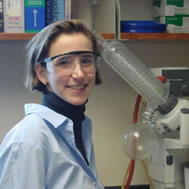 October 1, 2007, Greencastle, Ind. - Hilary Eppley, associate professor of chemistry at DePauw University, is among a group of seven inorganic chemists from across the United States to be awarded a National Science Foundation Phase I Course, Curriculum, and Laboratory Initiative (CCLI) grant. The $150,000 award, for 2008-09, will fund the work of the inorganic chemists at seven different primarily undergraduate institutions in the development of a "community of practice" for the teaching of inorganic chemistry.
This "Interactive Online Network of Inorganic Chemists" (IONiC, the acronym spelled using element symbols) will include face-to-face collaborative development of teaching materials, the creation of an online repository of teaching materials that also includes other interactive features to create a sense of community, and some collaborative inter-institutional teaching activities. The members of the Leadership Council of IONiC represent diverse subfields of inorganic chemistry, and as a group they have extensive experience in both chemical education and research.
The collaborators for this grant are:
Hilary J. Eppley, DePauw University
Margret J. Geselbracht, Reed College
Adam R. Johnson, Harvey Mudd College
Barbara A. Reisner, James Madison University
Joanne Stewart, Hope College
Lori A. Watson, Earlham College
B. Scott Williams, The Claremont Colleges
Ethan Benatan, director of computer user services, Reed College
The group began collaborating in 2006, when a small group of inorganic chemists from primarily undergraduate institutions (including four of the seven chemists on this grant), began the process of building a community for improving the teaching of inorganic chemistry. A series of face-to-face meetings to discuss curricular issues, share educational materials, and develop a website prototype have been funded by two previous grants from the Andrew W. Mellon Foundation's Interinstitutional Grants for Faculty Enhancement and a new grant from NITLE's Western Regional Instructional Innovation Fund.
Professor Eppley's inorganic chemistry research projects, using non- traditional solvent systems to synthesize coordination polymers with transition metals and lanthanides, have involved over 20 undergraduate students in the last eight years. These projects have been supported by external grants from Research Corporation and the Petroleum Research Fund and have resulted in 29 conference presentations by her undergraduate research students.
Back