Millsaps Sends Tigers to First Loss
September 29, 2007
STATISTICS | PHOTO GALLERY (to come)
September 29, 2007, Greencastle, Ind. -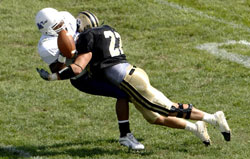 Millsaps quarterback Juan Joseph threw for 475 yards and five touchdowns and led the Majors to a 35-17 Southern Collegiate Athletic Conference win over DePauw. The Majors improved to 4-1 overall and 3-0 in the SCAC, while the Tigers suffered their first loss in dropping to 3-1 overall and 2-1 in the conference.
DePauw took a 3-0 lead early in the second on Brendan Smith's 33-yard field goal, but Millsaps took the lead for good when Joseph connected with Louis Conley for a 7-yard score with 7:40 left in the half.
The Majors extended the lead to 14-3 when Joseph teamed with Burt Pereira for a 30-yard score with 6:12 left in the third and the Majors put the contest away in the opening three minutes of the fourth as Joseph tossed a 22-yard score to Conley and a 62-yarder to Eric McCarty.
DePauw came right back as Spud Dick connected with Alex Koors for a 3-yard pass with 10:46 left before the Majors capped a 13-play drive on Joseph's 17-yard pass to Josh Maharrey with 3:46 remaining. Dick scored on a 3-yard run with 45 seconds left to cap the scoring.
Joseph completed 32 of 56 passes to 11 different receivers as the Majors totaled 528 yards of offense. Conley and Raymece Savage each finished with six catches, while McCarty had five for a team-high 146 yards.
DePauw totaled 306 yards of offense including 248 through the air with Dick completing 24 of 45. Bryan Mulligan caught nine for 128 yards.
Millsaps' Casey Younger recorded seven tackles including a team-high two sacks, while Ryan McElwain had 10 for DePauw.
The Tigers travel to Birmingham-Southern next Saturday, while Millsaps hosts Centre.
Back