Canadian Broadcasting Corporation to Feature Prof. Matt Hertenstein's Research
October 2, 2007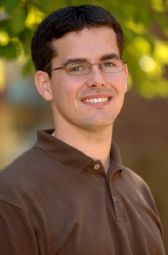 October 2, 2007, Greencastle, Ind. - "A firm handshake. A mother gently rocking her child to sleep. Fingers dancing across the keys of a piano. The common thread among theses three activities? Touch," notes today's Banner-Graphic. The Greencastle newspaper's Adam Coates adds, "Most of us don't think about the concept of touch as we move about our daily lives ... But a DePauw University scientist is taking a deeper look inside the realm of touch and is formulating theories as to how it affects us in all stages of our lives."
The story, which appears on the front page of today's edition, examines a research project being conducted by Matt Hertenstein, assistant professor of psychology, in his Emotion Lab at DePauw. "Hertenstein's studies recently attracted international attention when a film crew from Canada traveled to DePauw to interview the professor and shoot scenes for a documentary on touch," reports Coates. The crew, from the
Canadian Broadcasting Corporation, was working on a program set to air in January. With a working title of "Touch: The Essential Sense" it is scheduled to air on CBC's The Nature of Things, "and negotiations are currently under way to have the program aired in the United States -- possibly on the Discovery Channel."
The Banner-Graphic story details Hertenstein's work, which finds that people can communicate emotion through touch. "I hope this study makes people realize the power and impact that touch has on our lives," he says.
Access the complete story at the newspaper's Web site.
As Sunrise magazine reported over the summer, "At DePauw University in Greencastle, Indiana, Dr. Matthew Hertenstein believes touch can also communicate emotion." Another article, in the Toronto Sun in July, discussed Hertenstein's research on how television viewing impacts the development of babies.
Professor Hertenstein's Emotion Lab, based at DePauw and staffed by undergraduates, studies infant emotional development as well as tactile communication in adulthood. Visit it online by clicking here.
Back