Dennis Bland '87 Celebrates Groundbreaking for New 'Achievement Center' in Indianapolis
October 3, 2007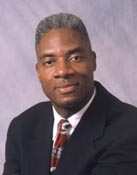 October 3, 2007, Greencastle, Ind. - "I see us being able to make an invaluable gift to the young people of this city," says Dennis E. Bland, president of the Center for Leadership Development and 1987 graduate of DePauw University. Today, CLD, which Bland has led for seven years and has served as a program facilitator for 20, is breaking ground on a new, 17,000 square foot classroom and administration building in Indianapolis.
"The days of scrambling to find enough space -- low-rent, preferably -- to teach hundreds of needy Indianapolis kids are about to end for the Center for Leadership Development," writes Dan McFeely in today's Indianapolis Star. "With the turn of a shovel and a bank account that includes $1.4 million from Eli Lilly and Co. -- the center's largest corporate gift ever -- the 30-year-old community agency is about to hit the big time." The new Eli Lilly CLD Achievement Center "will be more than four times the size of the existing building," McFeely reports. "When it opens in the fall of 2008, more than 4,000 students will be able to attend classes, compared with just 1,200 now. Students from as far away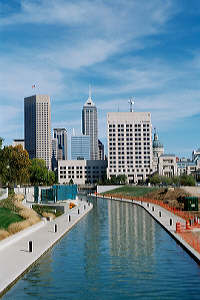 as West Lafayette, Kokomo, Columbus and Franklin will no longer have to wonder whether there will be room for them."
Read the complete story, "A lot more room to build leaders," at the newspaper's Web site.
In a March column, Star editor Dennis Ryerson wrote, "For 30 years the Center for Leadership Development has helped minority high school students develop personal and leadership skills so they are better able to succeed in college and careers. The record is impressive ... If you young people from all sectors of our community don't succeed, Indianapolis won't succeed. Dennis Bland, a soft-spoken, modest, thoroughly religious man, and the Center for Leadership Development he heads are making success possible for thousands of young people who otherwise might not have had the chance. It's a story that's got to be told again and again."
Read more in this previous story.
Back