Monon Bell Ticket Distribution Begins October 22
October 5, 2007
Also: Order Your Monon Bell DVD Here
Also: HDNet to Televise 114th Monon Bell Classic
Also:

[Download Video: "Ballad of the Monon Bell - 2007 Version" - 10,419kb]

[Download Audio: "Ballad of the Monon Bell - Stereo" - 2514kb]
October 5, 2007, Greencastle, Ind. - Fans who plan to attend the 114th Monon Bell Classic should be ready to grab up their tickets later this month. Plans for ticket distribution and sales for the November 10 game between DePauw and Wabash College were announced today by DePauw Director of Athletics Page Cotton.
During a two-day period (October 22-23) DePauw students, staff and faculty may go to the DePauw University Bookstore in the lower level of the Memorial Student Union Building and pick up their complimentary tickets by showing their valid DePauw ID. Current students may pick up one ticket, while staff and faculty will be allowed no more than two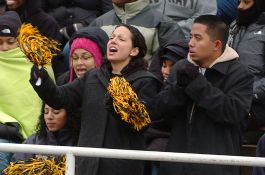 . During these two days there will be no cash purchases available.
Wednesday, October 24, is the first day for the sale of tickets. The $15 tickets may be purchased in person at the bookstore or over the phone by calling (765) 658-4926. Hours are from 10 a.m. to 5 p.m. Monday through Thursday, 10 a.m.-3 p.m. on Fridays and 11 a.m.-3 p.m. on Saturdays. There is a limit of eight tickets per order. All phone orders include a $1 shipping charge for standard U.S. mail delivery. Next day shipping is also available at an extra charge.
All tickets distributed by
DePauw are for seating on the DePauw side of the field only..
"The Monon Bell game is an incredibly popular event," Cotton said. "If fans want a ticket they need to make sure they obtain them early as the game will sell out quickly."
Kickoff for the 114th meeting between the two schools and the 76th for possession of the Monon Bell is set for 1 p.m. on Saturday, November 10 at Blackstock Stadium. Gates open at 11:30 a.m. and the Blackstock parking lot will open to the public at 9 a.m.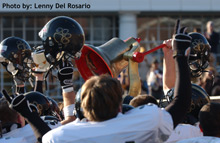 This year's game will be telecast across America on the high definition network HDNet with telecast parties arranged by DePauw and Wabash alumni in over 60 cities. A DVD of the 2007 game can be pre-ordered, and copies of the 2001-06 Monon discs remain available.
Wabash leads the all-time series 53-51-9, while DePauw leads in games played for the Monon Bell by a 35-34-6 count.
Complete game day information will be available here.
Back