Pre-Order Your 2007 Monon Bell DVD and Save
October 4, 2007
Also: HDNet to Televise 114th Monon Bell Classic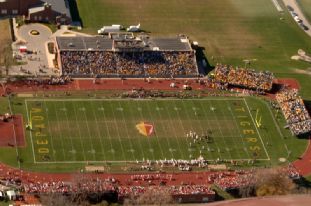 October 4, 2007, Greencastle, Ind. - The leaves are beginning to change color and fall is in the air in West Central Indiana; in just six weeks DePauw University will meet Wabash College to continue one of college football's greatest rivalries. Again this year, the two colleges will collaborate to create a DVD of the Monon Bell Classic, which will include every play of the November 10 game, as well as a generous selection of bonus features, including selected "Monon Memories" of past battles in the series, photo galleries featuring both this year's game and vintage images from the past, and the music video for the beloved Ballad of the Monon Bell.

[Download Video: "Ballad of the Monon Bell - 2007 Version" - 10,419kb]

[Download Audio: "Ballad of the Monon Bell - Stereo" - 2514kb]
The DVD of the 114th Monon Bell Classic is available for pre-order at a special "early bird"
price of $12 (plus $3 shipping per order). The DVD will sell for $15 after November 9. In addition, orders placed through DePauw before October 20 will get a free copy of the 2001 battle for the Bell included when the order ships (in early to mid-December). Place your order here.

[Download Video: "2006 Monon Memory" - 8811kb]
The disc will be professionally replicated, as in year's past, but supplies of the 2007 DVD will be more limited than the previous six pressings.

[Download Video: "1932 Monon Memory" - 3518kb]
"DePauw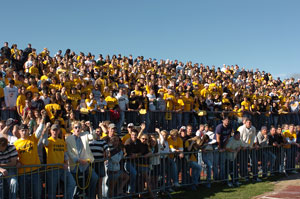 and Wabash will only have 250 DVDs available, per school, so when they're gone, they will be permanently unavailable," says Ken Owen '82, executive director of media relations at DePauw, who masters the disc and oversees its production. "Our previous agreement mandated that we order a minimum of 1,000 copies. By reducing that by half, we ensure that if we will have few, if any, copies remaining when the sales period ends, and it makes the DVD that much more collectible."

[Download Video: "1943 Monon Memory" - 6910kb]
"Producing the DVD each year has been an extraordinary collaboration between our two schools, which not only lifts the profile of the Monon Bell Classic, it exemplifies ways in which DePauw and Wabash can partner with one another," says Jim Amidon, who directs public affairs and marketing at Wabash. "While so much focus is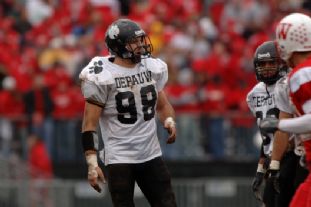 placed on how Wabash and DePauw are different, the Monon Bell Classic DVD demonstrates that our rivalry is based on mutual respect and admiration."

[Download Video: "1955 Monon Memory" - 6739kb]
The first six Monon Bell DVDs -- covering the games from 2001 through 2006 -- can be had for a special package price of $10, plus shipping (there is no additional shipping charge if ordered with the 2007 disc). Supplies of the 2002 game are extremely limited.

[Download Video: "1965 Monon Memory" - 3120kb]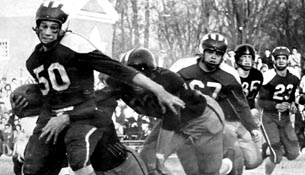 This year's Monon Bell Classic, to be played at DePauw's Blackstock Stadium, will again be televised live across the nation by HDNet. This marks the third year the network has carried the game (previous high definition telecasts were in 2003 & 2006), and is the first broadcast in a three-year agreement between HDNet, DePauw and Wabash, which extends through the 2009 Classic. The game will be presented on the DVD in anamorphic widescreen/16x9, as it will appear on HDNet.

[Download Video: "1977 Monon Memory" - 6001kb]
"The Monon Bell is truly special, and I'm thrilled that we're able to continue our partnership with
DePauw and Wabash," says Mark Cuban, president and co-founder of HDNet. "Securing the Monon Bell for the next three years will ensure continuity for our viewers and keep a great college football rivalry on the HDNet program schedule."

[Download Video: "1981 Monon Memory" - 5633kb]
Read more about the telecast in this previous story.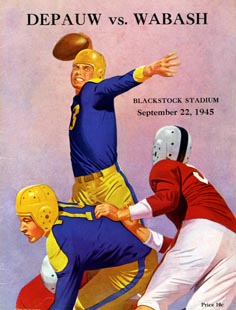 The Monon Bell was voted Indiana's best college sports rivalry by fans of ESPN, and is noted in the new DVD collection, ESPNU Honor Roll: The Best of College Football, as one of the nation's best annual clashes. Past games have been televised on ESPN2 and ABC, and the Monon Bell was featured on CBS' Sunday Morning, and has twice been spotlighted in Sports Illustrated. The annual DePauw-Wabash clash is also detailed in Rites of Autumn: The Story of College Football, a book by Richard Whittingham.

[Download Video: "1995 Monon Memory" - 5039kb]
To order a 2007 Monon Bell DVD, and to get copies of previous year's DVDs, click here.
Heading into the 2007 contest, Wabash holds a slim lead in the all-time series, 53-51-9. The two teams first clashed on the gridiron in 1890 and have met every year since 1911. This year's contest marks the 76th since the Monon Bell was introduced in 1932 as the prize for the annual rivalry. Kickoff is set for 1 p.m., eastern time. Information on ticket distribution will be announced in the next few days.

[Download Video: "2004 Monon Memory" - 7774kb]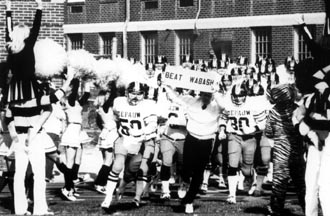 Learn more about the HDNet telecast in this previous story.
Again this year, DePauw and Wabash will work together to stage alumni telecast parties across the nation where graduates and friends of the colleges can gather to catch up with friends and cheer on their favorite team. Learn about plans for your city and/or sign up to host a gathering by clicking here.

[Download Video: "2001 Monon Memory" - 4124kb]
Access DePauw's Monon Bell Web page here. A complete roster of "Monon Memories" -- video highlights of past classics -- can be found here.
Back