Texas-Oklahoma Football Preview Cites Monon Bell's Ballad
October 5, 2007
October 5, 2007, Greencastle, Ind. - "It is the trophy awarded to the winner of one of the biggest, fiercest rivalries in college football, the Texas-Oklahoma game," notes today's edition of Texas' Austin American-Statesman. "Yet, the Golden Hat has never been captured the way the Little Brown Jug was by Minnesota in 1903. It has never been carjacked by a bunch of frat boys as UCLA's Victory Bell was in 1941. It has no music video like the oft-stolen Monon Bell, which goes to the winner of Wabash College and DePauw University's match. No one stands guard over the Golden Hat, as R.O.T.C. members do with the Bronze Boot that is awarded to the victor of the Colorado State-Wyoming game."
In the story, which carries the headline "Texas-OU trophy no steal: At 66, Golden Hat still lacks tradition," John Mayer writes: "Richard Pennington, a local author who was written histories about UT's football and basketball teams and Memorial Stadium, said he couldn't remember anything noteworthy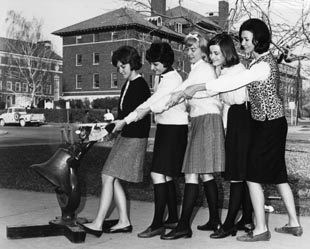 happening to the Golden Hat. Ever."
The same can't be said of the DePauw-Wabash rivalry, which began in 1890. The Monon Bell was introduced to the series in 1932, and the prize has been the subject of numerous thefts, near-thefts and other hijinks over the past 75 years, including a 1965 incident which Sports Illustrated cited as one of college football's five best all-time pranks.
Access the American-Statesman story at the newspaper's Web site. See and hear The Ballad of the Monon Bell, which the article references, here:

[Download Video: "Ballad of the Monon Bell - 2007 Version" - 7619kb]

[Download Audio: "Ballad of the Monon Bell - Stereo" - 2514kb] .
DePauw's plans for ticket distribution and sales for the November 10 game between
the Tigers and Wabash College were announced today. Details can be found in this story.
A DVD of the 2007 battle for the Bell will be created and can be pre-ordered. Learn more by clicking here.
Wabash leads the all-time series 53-51-9, while DePauw leads in games played for the Monon Bell by a 35-34-6 count.
Visit the official Monon Bell Web site for historical information and access to almost 70 "Monon Memories," video clips of the rivalry through the years.
Back