"Nature is the Infrastructure of Our Communities," Robert F. Kennedy Jr. Says in DePauw Discourse Keynote
October 5, 2007
Also: Incremental Environmental Change "No Longer is Appropriate," Bill McKibben Tells Opening Discourse Sesssion
Also: Saving Our "Ocean Planet" is Critical, Wallace J. Nichols '89 Tells DePauw Discourse
October 5, 2007, Greencastle, Ind. -

[Download Video: "Protecting Infrastructure" - 1211kb] "We're not protecting the environment, as some of our critics say, for the sake of the fishes and the birds," activist and attorney Robert F. Kennedy told an audience at DePauw University tonight. "We're protecting nature because we recognize that nature is the infrastructure of our communities, and that if we want to meet our obligation as a generation, as a nation, as a civilization -- which is to create communities for our children that provide them with the same opportunities for dignity and enrichment and prosperity and good health as the communities that our parents gave us --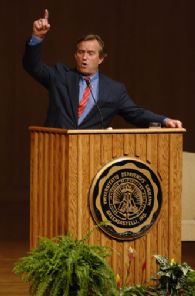 we've got to start by protecting our environmental infrastructure."
Kennedy -- senior attorney for the Natural Resources Defense Council, chief prosecuting attorney for the Hudson Riverkeeper and president of Waterkeeper Alliance -- delivered the keynote address to DePauw Discourse 2007: Sustainability and Global Citizenship, a three-day symposium presented by the Washington C. DePauw Society. He spoke to an enthusiastic audience of about 900 DePauw students, alumni and faculty members in Kresge Auditorium of the Judson and Joyce Green Center for the Performing Arts.
"I think the worst thing that could happen to the environment is if it becomes the province of a single political party," Kennedy stated, saying he votes for candidates from both parties, leaning heavily on their environmental track records.

[Download Audio: "Cousin Arnold" - 205kb] "I'm proud that my cousin, Arnold Schwarzenegger, who is a Republican, is the best environmental governor in 50 states, and now we've got another great environmental governor, Charlie Crist, also a Republican down in Florida, who's kind of following in Arnold's footsteps. But you can't talk honestly about the environment in any context today without speaking critically of this president, the Bush administration. This is the worst environmental president that we've ever had in American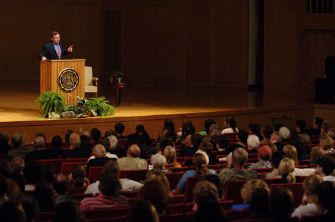 history, bar none."
Kennedy accuses the administration of overseeing more 400 major environmental rollbacks "as part of a deliberate, concerted effort to eviscerate 30 years of environmental law." The root of the problem. as he sees it, is that government and corporate interests have become one and the same; agency chiefs are former heads of corporations, and when they leave government return to their executive posts in the private sector with even greater influence on public policy.

[Download Audio: "Legalized Bribery" - 427kb] "I have nothing against corporations. I own a corporation. Corporations are good things," Kennedy maintains. "They drive our economy. They encourage people to assemble wealth and to risk it\ and they create jobs, and that ultimately is what we want. But, they should not be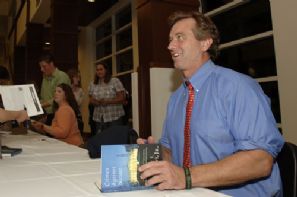 running our government. And the reason they shouldn't be running our government is because corporations don't want the same thing for America as Americans want. Corporations don't want democracy, and they don't want free markets; they want profits. And the best way for them to get profits too often is to use our campaign finance system, which is just a system of legalized bribery, to get their hooks into a public official and use that public official to dismantle the marketplace and give them a competitive edge or monopoly control, and then to privatize the commons: to steal our air, our water, our public lands or our public treasury."
Kennedy, who spoke for an
hour and twenty minutes without a script or notes, signed his latest book, Crimes Against Nature, in the Great Hall of the Green Center after his lecture. He declared,

[Download Video: "On Free Markets" - 1000kb] "There is no stronger advocate for free market capitalism than myself. I believe that the free market is the most efficient and democratic way to distribute the goods of the land and that the best thing that could happen to the environment is if we have true free market capitalism in this country. Because the free market promotes efficiency, and efficiency means the elimination of waste, and pollution is waste. And the free market would encourage us to properly value our natural resources, and it is the undervaluation of those resources that causes us to use them wastefully."
That said, Kennedy believes we are far from having such a system.

[Download Audio: "Always a Subsidy" - 308kb] "In a true free market economy, you can't make yourself rich without making your neighbors rich and without enriching your community. But what polluters do, is they make themselves rich by making everyone else poor. They raise standards of living for themselves by lowering quality of life for everybody else, and they do that by escaping the discipline of the free market. You show me a polluter, I'll show you a subsidy; I'll show you a fat cat who's using political clout to escape the discipline of the free market and force the public to pay his production costs. That's what all pollution is -- it is always a subsidy," he said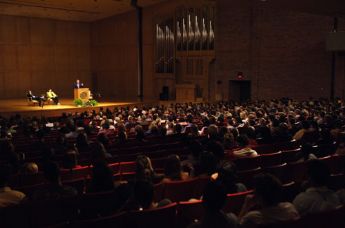 to applause.
In his talk, Kennedy also lambasted the media -- which, he maintains, is controlled by five multinational corporations -- for drastically scaling back investigative units and foreign news bureaus and pandering to the American public.

[Download Video: "Lowest Common Denominator" - 1308kb] "They entertain us. They appeal to the lowest common denominator, the prurient interest that all of us have in the reptillian core of our brains for sex and celebrity gossip. So they give us Anna Nicole Smith, and Paris Hilton, and Lindsay Lohan, and Brad and Jen, and Brad and J-Lo, and Brad and Angelina and, you know, we know more about Tom Cruise and Kate than we do about global warming. And Americans today are the best entertained and the least informed people on the face of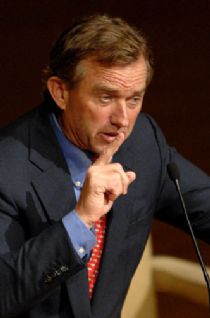 the Earth," he said to applause from the audience. "You cannot have democracy for very long if you don't have an informed public."
The activist also took issue with those who complain of the "liberal media," calling that characterization "the big lie." Kennedy asserted,

[Download Audio: "Hannity & Colmes" - 269kb] "You cannot tell me, okay, a liberal equivalent of Glenn Beck that's on national TV, or John Stossel, or Pat Buchanan, or Robert Novak, or Bill O'Reilly, or Brit Hume, or Sean Hannity, and on and on. You can say these are extreme, right-wing commentators, and there's nobody, I mean you have Alan Colmes. But he's like the Washington Generals with the Harlem Globetrotters; his job is to, like, lose every argument and then look unattractive while he's doing it."
Kennedy, who was named one of TIME magazine's "Heroes for the Planet," talked about the great leaders in American history, including George Washington, Teddy Roosevelt, Thomas Jefferson and Teddy Roosevelt, and the stands they took to keep corporate interests out of government and preserve and protect basic liberties. He closed his address by noting,

[Download Video: "Great and Good" - 796kb] "Abraham Lincoln said that our nation, America, is a great nation because it's a good nation, and that if we ever stop being a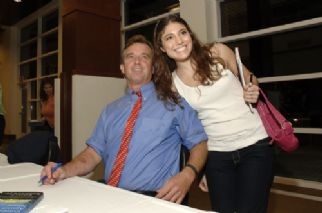 good nation we'll lose our greatness as well. And it's my great fear that we're already long down the road toward that. And it's time now that those of us who understand what it is that makes America worth fighting for stand up and take it back from those who don't."
The audience responded with an extended standing ovation.
DePauw Discourse will conclude tomorrow with a 9 a.m. session featuring Juliet Eilperin, environmental reporter for the Washington Post, and Jeffrey M. McCall '76, John D. Hughes Professor of Communication and Theatre.
For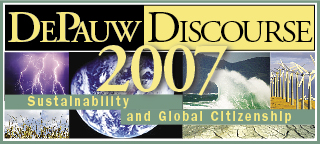 more information on "DePauw Discourse 2007: Sustainability and Global Citizenship," visit the event's official Web site.
Established in 2004 and presented by the Washington C. DePauw Society, DePauw Discourse is an annual symposium that brings some of the nation's leading thinkers and policymakers together with the University community. Previous participants have included: L. Paul Bremer, Lee Hamilton '52, Vernon Jordan '57 , Samantha Power, Roger Wilkins, Margaret Spellings, Bob Herbert, Allan Hubbard and Paul Volcker.
Back