Enjoy 'Percussion for a Crowded Planet' at Peeler Wednesday Evening
October 7, 2007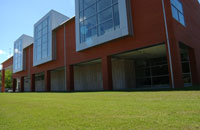 October 7, 2007, Greencastle, Ind. - Flower pots, a tennis racket, and kitchen objects are just a few of the "instruments" that will be used in the DePauw Percussion Ensemble's "Percussion at Peeler" concert on Wednesday, October 10, 2007 at 6:30 p.m. The performance will take place in the lower gallery of Richard E. Peeler Art Center. Using a more informal approach to performance, the audience is invited to move around the gallery and take in the exhibited art as well as the music.
Entitled "Percussion for a Crowded Planet: Making Do with Less," the program is presented in conjunction with the exhibition, "Beyond Green: Toward a Sustainable Art." The concert will include a large variety of works in various media.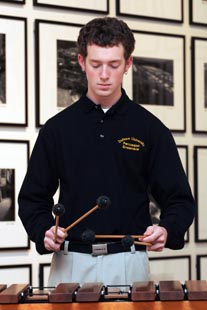 "Usually our percussion performances involve huge amounts of instruments and equipment, so I thought it would be fun, in keeping with the 'green theme' to present a program of works that use only a single instrument, or very limited and simple instruments, or even 'found sounds,'" says percussionist Amy Lynn Barber, professor of music at DePauw University.
The program will also include several improvisational works. Guest soloists will be music students Sarah Wachter, flute; and Carl Frank, baritone.
"'Beyond Green: Toward a Sustainable Art' is an exhibition that explores how sustainable design philosophy informs the work of an emerging generation of international artists who combine a fresh aesthetic sensibility with a constructively critical approach to the production, dissemination and display of art," states Kaytie Johnson, curator of DePauw University galleries. "The Percussion at Peeler events expose our audiences to a wide range of contemporary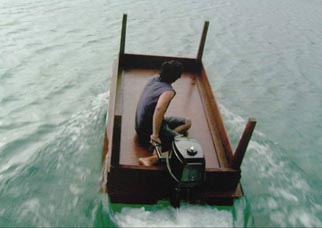 music and art that is thought- provoking, sometimes challenging, but always immensely engaging." (at leftt: Allora & Calzadilla, Under Discussion, 2004-05, single channel video projection with sound; courtesy Galerie Chantal Crousel, Paris, and Lisson Gallery, London)
"Percussion for a Crowded Planet" is one of many environmentally-themed events on the DePauw campus. The three-day symposium, "DePauw Discourse 2007: Sustainability and Global Citizenship," wrapped up yesterday. October 25-November 4 marks "ArtsFest 2007: Art and the Environment," and the DePauw School of Music will offer many many contributions to the event.
For more information, visit the DePauw University School of Music online.
Back