Tigers Take 28-24 Thriller Over Birmingham-Southern
October 6, 2007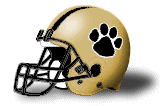 October 6, 2007, Hoover, Ala. - A touchdown pass from Spud Dick to Bryan Mulligan with 44 seconds left to play gave DePauw University a thrilling 28-24 win over Birmingham-Southern College this afternoon. DePauw led the entire game until the Panthers took the lead late, forcing the last-minute heroics and spoiling BSC's first homecoming since 1939. DePauw improves to 4-1 on the season; BSC is now 0-3.  It was the first-ever football game between the two schools.
Though the two teams are both in the Southern Collegiate Athletic Conference, the game is not an official SCAC game because BSC, formerly in Division I, is in the process of transitioning to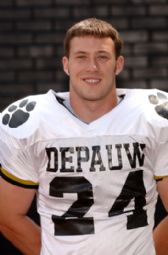 full Division III status.  The Tigers remain 2-1 in conference play and are now 3-0 in road games this season.
Sophomore Curtis Moore (pictured at right) led the DePauw offense, rushing for 182 yards on 27 carries, with two of the runs going for scores. Dick, the Tigers' sophomore quarterback, completed 25-of-38 passes for 254 yards and two touchdowns.  DePauw's all-time leading rusher, Jeremiah Marks, missed his third consecutive contest with a knee injury.
The stage is set for next Saturday's DePauw-Trinity clash at Blackstock Stadium. Kickoff is set for 1 p.m.
For comprehensive coverage of today's contest and detailed information, visit the football program's Web page. Access a story in the Birmingham News and a brief summary in the Indianapolis Star.
Back