Sacramento Bee Profiles "Brashness and Exuberance" of California Lawmaker Dave Jones '84
October 8, 2007
October 8, 2007, Greencastle, Ind. - "If the choice is between just going along, or pushing and disagreeing and trying to get something done, I'll opt for the latter," says Dave Jones. A member of the California State Assembly and 1984 graduate of DePauw University, Jones is the subject of a lengthy Sacramento Bee profile, "Brash idealist at bat: Lawmaker tackles issues, even at risk of striking out."
Jones, writes the newspaper's Jim Sanders, brings a "combination of brashness and exuberance" to his role. A Democrat, Jones "is best known, perhaps, for leading a successful campaign last year against a proposed tax for a new Sacramento Kings arena in the downtown railyard ... As a state lawmaker,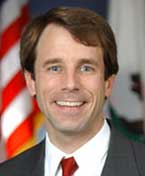 Jones fought unsuccessfully this year to require state approval of increases in health-care insurance premiums, ensure preschool access for every low-income child and mandate development of a state plan to eliminate childhood poverty by 2027."
The article continues, "Small in stature, just 5 feet 8, Jones plays a large role as chairman of the Assembly Judiciary Committee, which fine-tunes and helps determine the fate of key legislation from gay marriage to doctor-assisted suicide. Last year, Jones won passage of measures to overhaul the state's conservatorship system for fragile Californians unable to handle their own affairs. Recently, a Jones proposal to ban the drinking of alcohol along the American River during three summer holiday weekends was signed into law. He's still waiting for Gov. Arnold Schwarzenegger to act on bills by Jones to restrict the personal information that can be held by businesses after credit- or debit-card transactions, limit use of Social Security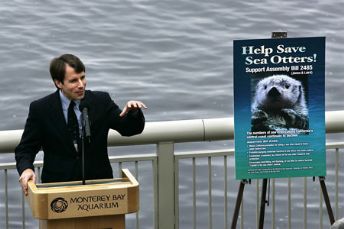 numbers on public documents, and force local government to accept some liability for irresponsible future development on floodplains."
A sidebar notes that Jones -- who served as counsel to U.S. Attorney General Janet Reno from 1995-98 and has been a state assemblyman since 2004 -- received a bachelor's degree in political science from DePauw University, and his master's law degrees from Harvard University.
Read the lengthy story at the Bee's Web site (a free registration may be required).
In 2005, Dave Jones was named "Legislator of the Year" by the Consumer Attorneys of California. Learn more in this previous article.
Back