Tiger Duo Advances to ITA Finals
September 30, 2007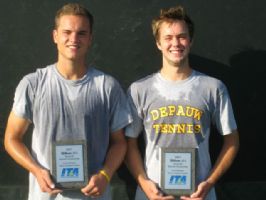 September 30, 2007, Kalamazoo, Mich. - DePauw was well-represented at the Intercollegiate Tennis Association's Central Region Championships including the tournament's doubles finalists.
Kortney Keith and Scott Swanson (pictured) won five straight matches to advance to the ITA regional doubles title match before losing by an 8-6 score to Charlie Cutler and Chris Hoeland of Washington University. In all, four of the Tigers' six doubles teams made it as far as the quarterfinals.
In singles play, Scott Sauer won four matches before falling to Kenyon's Mike Greenberg in the quarterfinals. Greenberg won by scores of 6-4, 6-0. Five of DePauw's 11 singles players advanced as far as the round of 32.
Tennis Tournament Results
ITA Central Region Championships
9/28-30/2007 at Kalamazoo, Mich. (Kalamazoo College)

 Singles competition 
128  Bryan Heck (DePauw) def. Charlie Howard (Washington) 6-3, 6-2
128  Lado Bakhutashbilli (Chicago) def. Ryan Dodd (DePauw) 6-3, 6-3
128  Evan Hunter (DePauw) def. Brandon Still (Albion) 6-2, 6-1
128  Josh Williams (Wheaton) def. Hunter Schouweiler (DePauw) 6-3, 2-6, 1-0 (9-7)
128  Scott Swanson (DePauw) def. Mark Bonner (Chicago) 6-2, 6-4
128  Rob Alef (Kenyon College) def. Anil Patel (DePauw) 6-1, 6-1
128  Kortney Keith (DePauw) def. Daniel Chang (Illinois Wesleyan) 6-2, 6-1
128  Scott Sandager (DePauw) def. Andrew De Vlieger (Calvin) 6-1, 6-3
128  Scott Sauer (DePauw) def. Jim Kucera (Baldwin-Wallace) 6-0, 6-0
128  Cameron Huffman (DePauw) def. Brad Seymour (Wittenberg) 6-2, 6-4
128  Mike Greenberg (Kenyon) def. Cameron Nash (DePauw) 6-0, 6-1
64   Greg Sussman (Kenyon) def. Bryan Heck (DePauw) 7-5, 6-3
64   Evan Hunter (DePauw) def. Josh Rinaldi (Kalamazoo) 6-4, 6-2
64   Scott Swanson (DePauw) def. Matt Lachman (Baldwin-Wallace) 6-1, 6-1
64   Kortney Keith (DePauw) def. Charlie Brody (Kenyon College) 6-3, 6-1
64   Scott Sandager (DePauw) def. Michael Van Vogt (Earlham) 6-0, 6-0
64   Scott Sauer (DePauw) def. Garrett Brinker (Chicago) 6-3, 6-4
64   James Daly (Baldwin-Wallace) def. Cameron Huffman (DePauw) 6-1, 6-3
32   Chris Hoeland (Washington) def. Evan Hunter (DePauw) 6-2, 6-3
32   Scott Swanson (DePauw) def. Nirmal Choradia (Washington) 6-4, 6-4
32   Max Woods (Washington) def. Kortney Keith (DePauw) 6-3, 0-6, 6-2
32   Charlie Cutler (Washington) def. Scott Sandager (DePauw) 3-6, 7-6 (7-5), 6-0
32   Scott Sauer (DePauw) def. Luke Bielawski (Wabash College) 6-2, 6-4
16   John Pelton (Hope) def. Scott Swanson (DePauw) 6-2, 6-0
16   Scott Sauer (DePauw) def. Justin Miller (Wheaton) 7-6 (7-5), 3-6, 6-2
QF   Mike Greenberg (Kenyon) def. Scott Sauer (DePauw) 6-4, 6-0
C1   Ryan Dodd (DePauw) def. Kyle Korb (Monmouth) 6-1, 6-2
C1   Hunter Schouweiler (DePauw) def. Steve DeMaagd (Calvin) 6-4, 6-3
C1   Anil Patel (DePauw) def. Chris Atallah (Albion) 7-6 (7-4), 6-4
C1   Cameron Nash (DePauw) def. Adrian Barker (Ohio Wesleyan) 6-0, 6-0
C3   Ryan Dodd (DePauw) def. Paul Oehrlein (Illinois Wesleyan) 6-1, 6-1
C3   Hunter Schouweiler (DePauw) def. Rocky Tektumanidze (Lake Forest), walkover
C3   Anil Patel (DePauw) def. Jerrod Howlett (Kalamazoo) 1-6, 6-3, 7-6 (12-10)
C3   Cameron Nash (DePauw) def. Joe Tchan (Chicago) 6-2, 7-6 (7-2)
C4   Ryan Dodd (DePauw) def. Tyler Adams (Baldwin-Wallace) 6-2, 6-1
C4   Hunter Schouweiler (DePauw) def. Nathan Hobrath (Denison) 6-1, 6-3
C4   Daniel Chang (Illinois Wesleyan) def. Anil Patel (DePauw) 6-1, 6-4
C4   Chris Foster (Allegheny) def. Cameron Nash (DePauw) 7-6 (7-5), 2-6, 1-0 (10-4)
CQF  Ryan Dodd (DePauw) def. Matt Chiricosta (Allegheny) 4-6, 7-6 (8-6), 7-6 (7-5)
CQF  Hunter Schouweiler (DePauw) def. Mark Bonner (Chicago) 6-0, 7-5
CSF  Hunter Schouweiler (DePauw) def. Ryan Dodd (DePauw) retired
CF   Hunter Schouweiler (DePauw) def. Chris Foster (Allegheny), walkover
     T.J. McMaster (DePauw) def. Robert Lehner (Wittenberg) 6-0, 6-0
     T.J. McMaster (DePauw) def. Bradley Boelkins (Hope) 6-2, 6-1
     Tom Cafmeyer (Kalamazoo) def. T.J. McMaster (DePauw) 3-6, 6-2, 6-3

Tennis Tournament Results
ITA Central Region Championships
9/28-30/2007 at Kalamazoo, Mich. (Kalamazoo College)

 Doubles competition 
64   Bryan Heck/Scott Sandager (DePauw) def. Greyser Clark/John Reinersten (Kalamazoo) 8-2
64   Evan Hunter/Anil Patel (DePauw) def. Scott Miller/Michael Van Vogt (Earlham) 8-6
64   Ryan Dodd/Cameron Huffman (DePauw) def. Jeremy Polster/Greg Sussman (Kenyon) 8-4
64   Cameron Nash/Hunter Schouweiler (DePauw) def. John Pelton/Jeff Vredenburg (Hope) 8-4
64   Kortney Keith/Scott Swanson (DePauw) def. Cory Kraftson/Davis Moore (Wheaton) 9-7
64   T.J. McMaster/Scott Sauer (DePauw) def. Charlie Brody/Mike Greenberg (Kenyon) 8-6
32   Bryan Heck/Scott Sandager (DePauw) def. Mike Goorhouse/Andrew Rescoria (Calvin) 8-1
32   Justin Miller/Josh Williams (Wheaton) def. Evan Hunter/Anil Patel (DePauw) 8-0
32   Ryan Dodd/Cameron Huffman (DePauw) def. Jason Brown/Cyrus Jadun (Kalamazoo) 9-8 (8-6)
32   Cameron Nash/Hunter Schouweiler (DePauw) def. Tom Cafmeyer/Joe Unger (Kalamazoo) 9-7
32   Kortney Keith/Scott Swanson (DePauw) def. Kyle Clayton/Lee Gammon (Transylvania) 8-2
16   Charlie Cutler/Chris Hoeland (Washington) d. Bryan Heck/Scott Sandager (DePauw) 9-8, 7-6(4)
16   Luke Bielawski/Will Pelak (Wabash) def. Ryan Dodd/Cameron Huffman (DePauw) 8-5
16   Ricky Tilton/Marcus Zeilstra (Calvin) def. Cameron Nash/Hunter Schouweiler (DePauw) 8-3
16   Kortney Keith/Scott Swanson (DePauw) def. Bart Schenck/Micah Scott (Ohio Northern) 8-4
QF   Kortney Keith/Scott Swanson (DePauw) def. Charlie Howard/Max Woods (Washington) 8-4
SF   Kortney Keith/Scott Swanson (DePauw) def. Isaac Stein/John Watts (Washington) 8-5
F    Charlie Cutler/Chris Hoeland (Washington) def. Kortney Keith/Scott Swanson (DePauw) 8-6

 Tournament notes 

Back