Dalcroze Society of America to Hold National Conference Here
February 20, 2008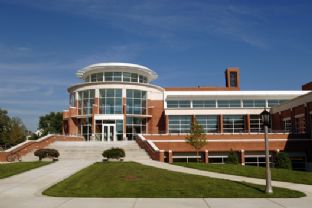 February 20, 2008, Greencastle, Ind. - The Dalcroze Society of America -- an organization of teachers, students and supporters of the Dalcroze eurhythmics system of music education -- will hold its national conference at DePauw University, June 18 - 21, 2008. The sessions will include pedagogical discussions and classes with master teachers.
Dalcroze eurhythmics is the name given to a system of music education developed by Emile Jaques-Dalcroze. A Dalcroze education is a musical training comprising the basic elements of music: rhythm, dynamics, tone and form. The Society's Web site notes that the Dalcroze approach "teaches an understanding of music -- its fundamental concepts, its expressive meaning, and its deep connections to other arts and human activities -- through a pathbreaking approach incorporating rhythmic movement, aural training, and physical, vocal, and instrumental improvisation."

Nicole Brockmann, assistant professor of viola in the DePauw University School of Music, is president of the Dalcroze Society of America.
For more information, click here or e-mail Professor Brockmann.
Back