ArtsFest 2007 to Explore 'Art & the Environment,' October 27 - November 4
October 10, 2007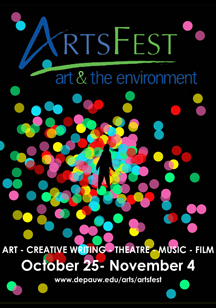 October 10, 2007, Greencastle, Ind. - The environment -- the infinite medley of organic and man-made structures that frame life's comings and goings -- provides the theme for "ArtsFest 2007: Art & the Environment," DePauw University's annual celebration of the creative and performing arts. In its sixth year, the University-wide event will take place Thursday, October 27 through Sunday, November 4. ArtsFest will include art exhibitions, theatre performances, concerts, lectures, film screenings, creative writing readings and more.
Departments, programs, and organizations collaborating in the 11-day festival include the Peeler Art Center galleries, film studies, the DePauw University School of Music, DePauw's English department, DePauw Theatre, the DePauw Performing Arts Series, the DePauw Greek community, and numerous student organizations including the Student Arts Council, the Bicycle Club and the

Environmental Club. All events are free and open to the public with the exception of the DePauw Theatre production.
Seldom has the timing of an ArtsFest theme been more appropriate than it is this year. While the DePauw community considers ideas of sustainability -- bringing to campus such noted environmentalists as Robert Kennedy Jr. for last week's DePauw Discourse -- ArtsFest will expand upon and challenge our notions of environment and sustainability through a variety of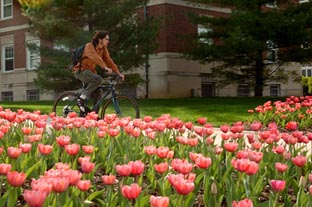 artistic mediums.
ArtsFest 2007: Art & The Environment will kick off Thursday, October 27 with the installation of Re*Cycling Art, a public art project that will introduce to campus 100 decorated bicycles. Following the 4:30 p.m. parade and cookout, the bikes become DePauw community property. You're invited to pick one up and ride it to the dedication concert for the Judson and Joyce Green Center for the Performing Arts, featuring the Grammy award-wining Orpheus Chamber Orchestra, at 8 p.m., or peddle to Jazz at the Duck at 9 p.m. at Walden Inn. Just don't forget to return the cycle to a campus bike rack once you're done.
Music's presence is abundant during the festival. The DePauw New Music Ensemble offers "Replacing Music," a program of music "replaced" from the recital hall to the patio of the Green Center for the Performing Arts at 7:30 p.m. on Friday, October 26. The University Jazz Ensemble and Symphony Orchestra will enliven the festival's Sundays with theme-specific concerts on October 28 and November 4, respectively. A musical event not to be missed is "Quarry Sounds," a guided path through the DePauw Nature Park offering live performances of music and drama along the way. Last but not least is the Performing Arts Series event, Toby Foyeh and Orchestra Africa on Saturday, October 27. This innovative ensemble combines traditional Nigerian music with jazz, Afrobeat, and rock.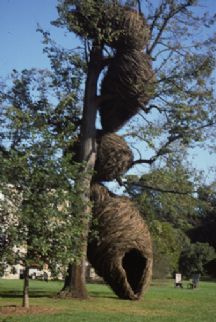 Not to be outdone, the visual arts are sponsoring environmental sculptors, activists and exhibitions. On October 31 at 4 p.m., internationally prominent sculptor Patrick Dougherty will join local artist Susan Watt Grade to discuss site-specific sculptures which each will create on campus. Dougherty's interactive installation, a three-week long project requiring volunteer assistance uses, as its medium, saplings salvaged from local areas slated for clearing. Watt Grade, with the assistance of DePauw art students, will create a piece that utilizes and reclaims discarded material from our consumer-driven society.
Additionally, Brenda Baker, a forerunner in the sustainability movement and 1986 graduate of DePauw, will lecture on artists as social activists, and the Richard E. Peeler Art Gallery is hosting several exhibitions including the theme-oriented "Beyond Green: Toward a Sustainable Art."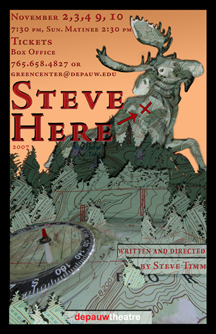 A fan of theatre? DePauw Theatre offersprofessor Steve Timm's new play, Steve Here ↑X, opening November 3 and based on experiences encountered while hiking and kayaking alone in the wilderness. And if you're lucky, you'll catch the roving band of swashbucklers that are DePauw Theatre's Renaissance Guerilla Theatre, sure to catch you by surprise somewhere on campus October 25-27. Speaking of unexpected theatrical encounters, DePauw's theatre honorary, Alpha Psi Omega, will present a week's worth of Pulitzer Prize-winning playwright Suzan-Lori Parks' 365 Days/365 Plays, in unusual venues including a car and an elevator.
There's more. DePauw's film studies program will present the documentary, Who Killed the Electric Car?, at 7:30 p.m. on November 1. Meanwhile, the work of writers and poets will be the focus of the Kelly Writers Series' October 29 reading by acclaimed nature poet Barbara Ras, as well as the English department's popular creative writing faculty reading event on October 30, and the subversive tactics of Poetry, Naturally, a group composed of people for the propagation of poems. Roy O. West
Library will again participate in the festival with a comprehensive display of materials on the subject of art & the environment.
DePauw's ArtsFest would not be ArtsFest without its popular, annual closing event, Art Attack, a day of free art performances, workshops and hands-on art activities for children. If you're a kid or a kid at heart, come to the Green Center on November 4 from 12:30 to 4 p.m. to sample the many and varied activities being offered by DePauw's Greek and student organizations.
A complete schedule of all ArtsFest 2007: Art & the Environment visual, performing, and creative art activity can be found at the event's Web site. For additional information contact Gigi Fenlon via e-mail or call (765) 658-4485.
Back