DePauw Contributes to Putnam County's "Commercial and Industrial Boom"
October 11, 2007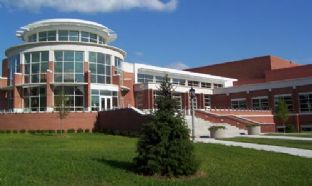 October 11, 2007, Greencastle, Ind. - "Putnam County is experiencing a commercial and industrial boom this year," begins an item at Inside Indiana Business.com. "Over $250 million in new commercial, industrial, and institutional construction projects are underway or just recently completed. Several communities around the county are benefitting from these investments."
It adds, "DePauw University continues to invest in (its) campus with new an enhanced facilities. Over $40 million worth of investment is nearing completion for grand opening this fall. Significant projects include the Janet Prindle Institute for Ethics and the Judson and Joyce Green Center for the Performing Arts(pictured at top). In addition, the University completed improvements and upgrades to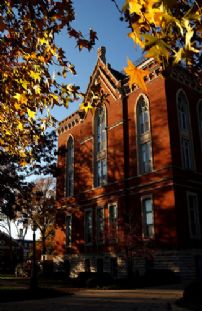 several buildings on campus this Summer in preparation for the start of classes this fall."
"We greatly appreciate the investment taking place in our community," says Greencastle Mayor Nancy Michael. "These investments, not only in Greencastle, but throughout the county help grow our tax base, provide job opportunities, and provide a better quality of life for our citizens."
Read the complete text at Inside Indiana Business.com.
The economic impact of DePauw University on the local economy was the subject of an independent study in 2005. The report found that DePauw provides more than $176 million in benefits to Central Indiana on an annual basis and its activities create jobs that employ 2,335 people. Further details can be found in this story.
Back