"Most Proficient Kicker" Tom Downham '88 Profiled in Newspaper
October 15, 2007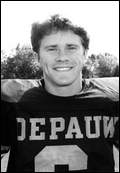 October 15, 2007, Greencastle, Ind. - "Being a kicker taught me that you very much are a man on an island," says 1988 DePauw University graduate Tom Downham. Being in sales almost is the same thing. It's the whole thing about, 'If it is to be, it's up to me.'" An article in today's edition of Indiana's Lafayette Journal and Courier describes Downham as the "most proficient kicker in DePauw history" and describes how he received tryouts with 5 NFL teams after graduating from the University.
A sidebar to the story notes Downham holds DePauw football records for career field goals (28), single-season field goals (13), career extra points (101), single-game extra points (seven) and consecutive extra points without a miss (52). He's also sixth in DePauw career scoring with 185 points.

Now a credit card and payroll processing professional based in Fort Wayne, Downham says, "I often think how humbling it is that kickers frequently are the leading scorers, yet they are outcasts. Think of it this way: In the middle of a rugby match, you have some guy who looks like a golfer walk onto the field and score."
Access the complete text at the newspaper's Web site.
Back