Prof. Kevin Howley Contributes Chapter to Lesson Plans for Creating Media-Rich Classrooms
October 16, 2007
October 16, 2007, Greencastle, Ind. - Kevin Howley, associate professor of communication at DePauw University, contributes a chapter to the new book,
Lesson Plans for Creating Media-Rich Classrooms
. Dr. Howley examines "Reading Reality Television: Cultivating Critical Media Literacy" in chapter 18 of the text, which is published by the National Council of Teachers of English.
"In today's media-rich society, where students are exposed to an ever-increasing variety of traditional and nonprint texts, media literacy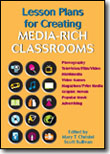 skills have become critical to the academic development of our students," states a synopsis of the book. "By developing students' media literacy skills, not only can we help them to become more sophisticated readers and consumers of media, but we can also help to increase their involvement and literacy skills in other areas."
Learn more at the publisher's Web site.
Kevin Howley is also the author of Community Media: People, Places, and Communication Technologies, which was published in 2005 by Cambridge University Press.
Back