Joe Rein '47 Holds 'Birthday Party' for His 1921 Nash
October 16, 2007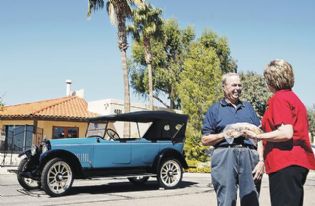 October 16, 2007, Greencastle, Ind. - About 100 neighbors, friends and relatives of Joe Rein, a 1947 graduate of DePauw University, gathered in Tucson, Arizona this month for a special celebration. Rein threw an 86th "birthday party" for a 1921 Nash Model 681 that he has restored. The car was originally owned by Rein's grandfather, and was given to its current owner in 1946. (photo at left: Arizona Daily Star)
"Driving the car around the campus of DePauw University in Greencastle, Ind., many people were fascinated by the car, including a girl named Harriet Mendenhall," writes Jeff Commings in the Arizona Daily Star. Rein tells the newspaper, "She wrote a letter to her sister saying, 'I met this crazy guy . . . he's not so much, but his car is absolutely amazing.'" The couple married in 1949.
Commings reports, "Over the years, the Nash got very little use except for a few car shows here and there that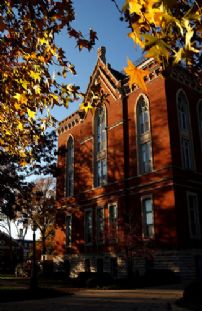 garnered prizes for the increasingly rare vehicle. 'Most of the time I would win because I had the only car in a particular class,' Rein said. It wasn't until Harriet Rein suggested a birthday party for the Nash that the idea of a restoration became a reality, and on January 2006, Rein took the first steps to get his car ready for a celebration in the fall of 2007."
Sadly, Harriet Mendenhall Rein, a 1948 graduate of DePauw, passed away July 7. "A memorial was held in her honor the day before the birthday party, bringing friends and family from across the country, as well as longtime friends from England," notes the Daily Star.
"She absolutely insisted that the party go on no matter what," says Joe Rein. His youngest son, Steve, adds, "Mom wanted us to finish the Nash, so it made it even more pressing to continue. It was great to have this project be a focal point for him."
Read the complete article at the newspaper's Web site.
Back