New Play by Prof. Steve Timm to Debut as Part of ArtsFest
October 19, 2007
Also: ArtsFest 2007 Details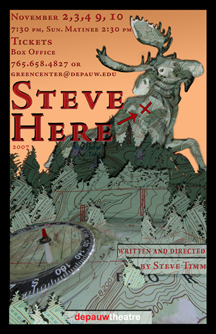 October 19, 2007, Greencastle, Ind. - In celebration of ArtsFest 2007: Art & the Environment, DePauw Theatre will premiere Steve Here ↑X, a provocative and humorous new play written and directed by professor of communication and theatre Steve Timm. The production runs November 2-4 and 9-10, with Friday and Saturday performances at 7:30 p.m. in Moore Theatre in the University's Judson and Joyce Green Center for the Performing Arts.
The Sunday, November 4 performance will be presented in front of an audience in the television production studio of the Eugene S. Pulliam Center for Contemporary Media, and presented live to the community on D3TV at 2:30 p.m. Tickets are free to this studio performance as seating is limited, and may be acquired in person at the Green Center box office.
Using interactions between man and nature, Steve Here ↑X combines excerpts from "Of Wolves, Moose, and Daughters," written as part of a residency at Isle Royale National Park, with a collection titled "Monologues from the Wilderness," written during a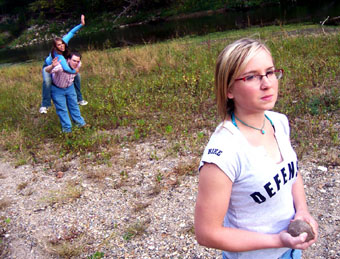 Fisher Fellowship. "Of Wolves, Moose and Daughters" tells the story of a father trying to "hike some sense" into his distanced teenage daughter. Woven through this frame are monologues based on the playwright's encounters during months of backpacking and kayaking in wilderness areas across the country such as Isle Royale National Park, Yellowstone, the Gila National Forest in New Mexico and southern Illinois' Shawnee National Forest.
Steve Here ↑X tells the stories of people purposely immersed in the wild: an environment that intensifies fears, simplifies needs and desires, and invites self-reflection and the examination of one's place. According to Timm, the reduction of daily clutter to "eat, drink, sleep, hike, paddle" offers clarity and perspective. "Initially though, I thought I'd walk into the wilderness and have a series of epiphanies. When that didn't happen, I discovered I was more interested in how people I met along the trail interpreted their experiences in the wild." Those encounters and observations led to the stories that comprise "Of Wolves, Moose, and Daughters" and the series of monologues.
Producing Steve Here ↑X has offered DePauw students a unique experience. In shaping a new work, student actors, directors and designers have not only been involved in the development of the production, but have helped fine-tune the text through the creation and critique of moments in the play. Members of the cast and crew also joined director Timm for an immersion in the wilderness during a weekend of hiking, kayaking and rehearsing in the Charles Deam Wilderness Area of the Hoosier National Forest. Junior Chris Burton, who plays the father in "Of Wolves, Moose, and Daughters" sums up the trip, "We paddled in six miles, then hiked out another four. The whole experience was awesome." Junior and assistant director Rachel Pfennig concurs, "It was real camping, where it was just us and the stars and the woods." (above photo, l-r: Mackenzie Travers, Chris Burton and Nicole Samsel)

Tickets for the Friday and Saturday performances are $3 for students and $6 for adults, and may be purchased at the Judson and Joyce Green Center for the Performing Arts Center Box Office. Also available are DePauw Theatre patron passes. Purchasers are entitled to five tickets for the price of four, which may be used in any combination throughout the season. The passes are available for both students and adults. For reservations and information call (765) 658-4827 or by e-mailing greencenter@depauw.edu.
Back