Former DePauw Coach Bill Lynch Doing "A Good Job" at IU, Says Joe Paterno
October 20, 2007
October 20, 2007, Greencastle, Ind. - "I think he's done a good job," Penn State's legendary Joe Paterno says of the coach he'll face today, Indiana University's Bill Lynch. "It can't be easy to succeed somebody that everybody liked." A story in the Philadelphia Inquirer details how Lynch, who took the reins at IU in June from the late Terry Hoeppner, has guided the Hoosiers to a 5-2 start.
With today's foe ranked #25 in the nation, "Win No. 6 could come against Ball State on Nov. 3," writes Jeff McLane. "Lynch coached the Cardinals from 1995 to 2002 before a brief stint at DePauw.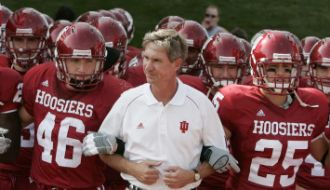 Then he went back to Indiana -- he was the quarterbacks coach from 1993 to '94 -- as Hoeppner's offensive coordinator."
Lynch has retained the rituals instituted by Hoeppner, his good friend. "His stamp is all over this program. Our job is to carry it on and continue to improve, which is what he'd want us to do."
Access the complete article at the Inquirer's Web site.
Learn more about Bill Lynch in this previous story.
Back