2,500 Gather to Celebrate University's Centennial
June 12, 1937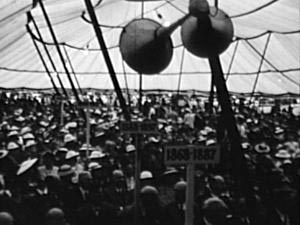 June 12, 1937, Greencastle, Ind. - Approximately 2,500 alumni of DePauw University (formerly known as Indiana Asbury) gathered in a huge tent today on the spot where The Edifice once stood to celebrate the 100th anniversary of the institution's founding. Francis Tilden, an 1897 graduate and president of the DePauw Alumni Association, presided over the alumni chapel this morning.
DePauw's president, Clyde E. Wildman '13, opened the program, which also featured a roll call of classes and singing by Ruth Rooney, a star of the Metropolitan Opera and 1927 DePauw graduate. John Westerfield of Kansas City (pictured at right),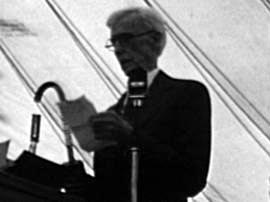 a member of the Class of 1868, was in attendance and recognized as the oldest living graduate of the University with the presentation of the Goodwin Memorial Cane.
Today's event is part of a four-day celebration of DePauw's history. Last night, the DePauw University Choir presented the oratorio Elijah under the direction of Dean R.G. McCutchan.
The centennial celebration kicked off in January with a coast-to-coast radio broadcast over NBC. Read more here.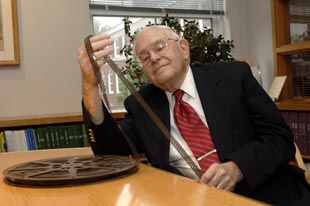 Vintage photographs and film footage of the DePauw centennial celebration have been married to narration by John Baughman '48, professor emeritus of history (pictured at left), in a video edited by Ken Owen '82, executive director of media relations at DePauw. The video file is large and has been broken into two segments:

[Download Video: "1937 Centennial Film - Part One" - 20,311kb]

; [Download Video: "1937 Centennial Film - Part Two" - 17,001kb]. The complete film is available as a whole below.
Learn more about DePauw's history in DePauw: A Pictorial History. The text and accompanying photos and illustrations, first published in 1987, can be found online by clicking here.
Back