US Must Export Democracy with Care, Declares Lee Hamilton '52
October 22, 2007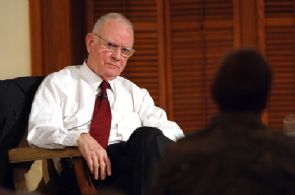 October 22, 2007, Greencastle, Ind. - "Today, U.S. policy seeks to promote democracy in Iraq, Afghanistan and elsewhere," writes Lee Hamilton, former congressman and co-chair of the Iraq Study Group, in today's Indianapolis Star. The 1952 graduate of DePauw University continues, "And though President Bush, like several presidents before him, has made democracy promotion a central tenet of his foreign policy, we are falling short. In fact, aside from some noteworthy successes that include post-war Japan, Germany and South Korea, our deficiencies have been the rule, not the exception, in American democracy promotion."
The task, opines Hamilton, is immensely difficult. "Democracy means much
more than elections. It means building sustainable democratic institutions, inspiring popular confidence in those institutions, and championing transparency and accountability. Furthermore, it is a job our government is not well organized or equipped to perform."
The Democrat believes the "shortcomings" of American efforts to build democratic nations are visible in Afghanistan and Iraq. He adds, "Calls for democratic reform often conflict with defending other national interests. Pro-democracy rhetoric is seen as threatening by many of our autocratic allies. Pervez Musharraf (Pakistan), Hosni Mubarak (Egypt), and King Abdullah (Saudi Arabia) are undemocratic leaders and partners, and our unwavering support for them undermines our commitment to advancing liberty and exposes us to charges of hypocrisy."
Hamilton, director of the Woodrow Wilson International Center for Scholars in Washington, D.C., believes "we must improve our efforts to promote democracy." He outlines several strategies, suggesting "we must acknowledge how hard it is to plant and maintain a democracy in a country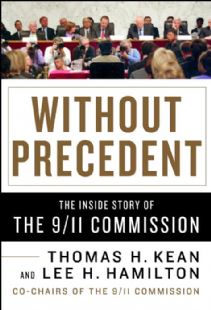 lacking the history or institutions of representative government," and asserting "we must organize, bolster and better coordinate the efforts of the executive agencies responsible for democracy promotion."
In conclusion, Hamilton -- who also served as vice chair of the 9/11 Commission -- states, "America's greatest tool in democracy promotion is our example. As Thomas Jefferson said, 'We are pointing out the way to struggling nations who wish, like us, to emerge from their tyrannies.' America's democratic experiment has been, despite its many flaws, a monumental success. We must redouble efforts to strengthen our democracy at home and to project democratic values to the world, even in the face of threats to the homeland."
Read the complete essay at the Star's Web site.
Learn more about Lee Hamilton, who also served as vice chair of the 9/11 Commission, in this previous story. The veteran statesman is a frequent visitor to the DePauw campus, and in October 2006 discussed the Iraq war and other matters at DePauw Discourse 2006: Issues for America. Access a story -- including video and audio clips -- here.
Back