DePauw Among Nation's Top Producers of Fulbright Award Recipients, Reports Chronicle
October 22, 2007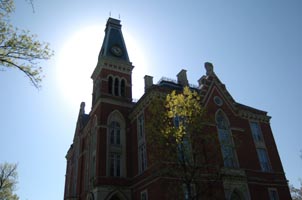 October 22, 2007, Greencastle, Ind. - DePauw University is among the "Top Producers of Fulbright Awards for U.S. Students, 2007-08" according to a chart published in the October 26 edition of the Chronicle of Higher Education. The publication notes that three 2007 DePauw graduates received Fulbright Awards to study and live abroad for a year, and that eight students applied for the prestigious grants.
Nishita Trisal is spending a year in Indonesia teaching English to young people. Michael R. Roberts is now in Berlin, Germany teaching English language and literature and studying postmodern theatre and theatrical adaptation theory. A third 2007 DePauw graduate, Jeyson H. Florez, is researching wealth distribution and poverty in Costa Rica.

In addition, John P. Porter, a 2002 graduate of DePauw, was awarded a Fulbright U.S. Student scholarship in modern history. He is spending the 2007-08 academic year in Osaka, Japan, serviing as a special researcher ("tokubetsu kenkyūin") at the Osaka City University's Urban Research Plaza.
Established in 1946, the Fulbright Program "serves as America's flagship international-exchange program," writes JJ Hermes. "The federal government provided about $181-million in support for the 2007-8 Fulbright grants," the Chronicle reports.
The story points out that a new grant -- the Fulbright Science and Technology Award -- is bringing international Ph.D. students to the United States this fall. "In other areas of the Fulbright Program, officials continued an emphasis that began last year to increase recipients' fluency in languages deemed critical for national security, like Mandarin and Arabic. A teaching-assistantship program that sends American students abroad to teach English was also expanded."
Access the story and accompanying charts at the Chronicle's website.
The application deadline for 2008-09 Fulbright Awards has passed, and sixteen DePauw students have applied. For more information, contact Douglas E. Harms, professor of computer science and DePauw's Fulbright program adviser.
Back