Greek Organizations Donate $3,500 to Local Habitat for Humanity
October 24, 2007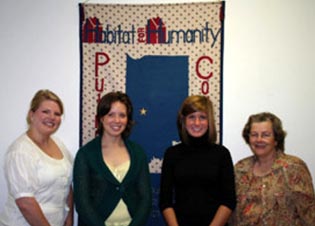 October 24, 2007, Greencastle, Ind. - The coffers of Putnam County Habitat for Humanity are $3,500 richer, thanks to a donation from DePauw University's fraternities and sororities, reports Greencastle's Banner-Graphic. Today's edition of the newspaper carries a story on the gift, and includes a photo of DePauw students Courtney Schmidt and Sarah Bowers and Greek life coordinator Autumn Hansen after they presented the donation to Habitat's Marj Weaver. (l-r: Hansen, Schmidt, Bowers and Weaver; photo by Josie Bode/Banner-Graphic)
"This is the first installment of two years of planned giving by [Greek chapters] to the local charity," reports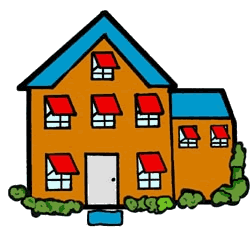 the newspaper. "Sarah Bowers says DePauw sororities have set a fundraising goal of $50,000 by 2009; enough for the construction of one new Habitat for Humanity home. In addition, they pledged to unite students, alumni and local women to furnish all of the construction for that home, marking the Putnam County first 'All Woman Build.'"
The newspaper incorrectly reports that the funds were donated by Panhellenic Council, which serves as the umbrella organization over the sororities at DePauw. In fact, the funds were raised by both fraternities and sororities during Greek Week.
Read the complete story, headlined "Habitat for Humanity benefits from DePauw," at the newspaper's Web site.
Back