Front Page Star Story Notes Indiana Gov. Mitch Daniels' DePauw Visit
October 25, 2007
Also: "We Have Gone For It," Indiana Gov. Mitch Daniels Tells DePauw Audience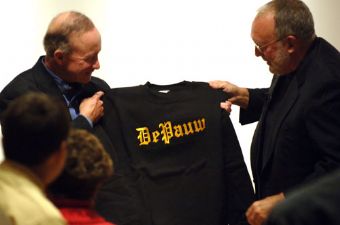 October 25, 2007, Greencastle, Ind. - Yesterday's visit by Indiana Governor Mitch Daniels is front page news in today's Indianapolis Star. The governor's Crain Lecture at DePauw came one day after he announced plan to place a 1 percent cap on residential property tax bills.
"'So far, the virtually unanimous opinion is that this is a great plan, but tell me more about this aspect or that aspect -- and that's appropriate,' Daniels said after speaking to 100 people at DePauw University in Greencastle. 'There are a lot of tough judgment calls in here, and I don't doubt we'll see lots of changes and some improvements.'" The story by Bill Ruthhart is accompanied by two photographs of Gov. Daniels at DePauw in the newspaper's print edition.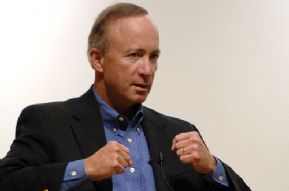 Yesterday's event was also covered by Indianapolis NBC affiliate WTHR, which carried live reports in its 5:30 and 6 p.m. newscasts.
Access the full text at the Star's Web site. Another article can be found in today's edition of Greencastle's Banner-Graphic.
An account of Mitch Daniels' visit to campus -- including audio and video clips -- can be accessed in this story.
Source: Indianapolis Star
Back