'Re*Cycling Art' Brings Campus and Community Together for Fun and Social Awareness
October 26, 2007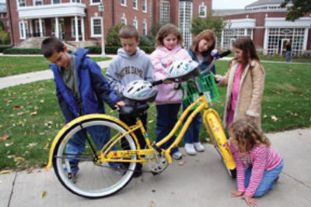 October 26, 2007, Greencastle, Ind. - "Riding with a helmet on, Tzouanakis School third-grader Duke Duff was careful as he navigated the streets and sidewalks around DePauw University Thursday afternoon," begins an article in today's Banner-Graphic of Greencastle. "He, along with several TZ classmates, participated in 'Re*Cycling Art,' a public art project that saw 100 decorated bicycles introduced to campus for public use. The entire project was the kickoff for ArtsFest 2007: Art and The Environment, DPU's annual celebration of the creative and performing arts."
Lisa Meyer Trigg writes, "Following the bike parade around campus, a cookout on the lawn at East College allowed onlookers to check out the bikes. Many were painted in multi-hues. One went for the bedazzled look with shiny silver studs and chrome hubcabs. Another had suede fringe and cowboy six-shooters in holsters. The chemistry crowd was in their element as they decorated their two-wheeler with the periodic table, while a purple
bike gave the social message 'There's No Excuse for Domestic Violence.'"
The text continues, "DePauw junior Lukas Schooler said the bike project will continue to be an excellent way for the campus community to interact with Greencastle at-large. All of the bicycles will be available for public use. They will be parked at bike racks around campus and can be used by anyone wanting to cycle around campus or even to downtown Greencastle. Each bike -- some are men's models and some are women's -- carries a card outlining the bike sharing project, and asking that any needed repairs be reported so the bike can be picked up, fixed, and returned to service. (at right: Mike Schmeckebier, Greek life coordinator at DePauw. A caption in the paper notes, "The french fries in the bike basket asks the question, 'Would you like fries with that?' in response to the [campus life] office's theme of 'We serve all students.'"]
Schooler tells the newspaper, "They're here indefinitely, as long as the campus respects them."
Access the complete story and accompanying photos at the Banner-Graphic's Web site. Learn more about ArtsFest in this previous article.
Back