Sold Out: DePauw's Allotment of Monon Bell Tickets is Now Gone
October 26, 2007
Also: Order Your Monon Bell DVD Here
Also: HDNet to Televise 114th Monon Bell Classic
Also:

[Download Video: "Ballad of the Monon Bell - 2007 Version" - 10,419kb]

[Download Audio: "Ballad of the Monon Bell - Stereo" - 2514kb]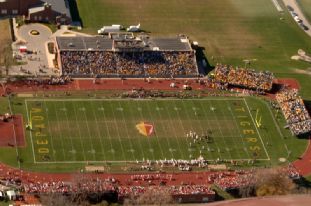 October 26, 2007, Greencastle, Ind. - Seats on the DePauw University side of Blackstock Stadium for the 114th Monon Bell Classic are all spoken for. The last of DePauw's allotment of 4,800 tickets for the game with Wabash College were snatched up this morning, two days after they went on sale. The latest edition of one of college football's oldest and greatest rivalries will be played November 10 at 1 p.m.
DePauw's Alumni Office is staging a pre-game brunch, and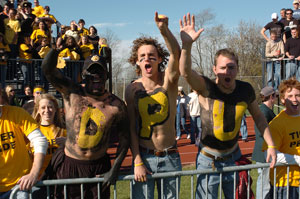 the package includes a game ticket. To inquire about availability, send an e-mail to alumnioffice@depauw.edu. [UPDATE 10/30 2:40 p.m.: The brunch is also sold out.]
Gates open at 11:30 a.m. and the Blackstock parking lot will open to the public at 9 a.m.
Again this year, the battle for the Bell can be seen across the nation on HDNet. Read about this year's plans for the telecast on the high definition network in this previous story.
Per recent tradition, there will again be telecast parties across the nation arranged by DePauw and Wabash alumni in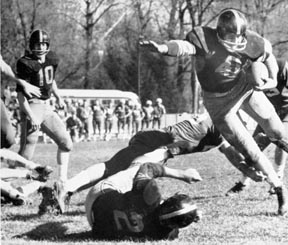 more than 60 cities. A DVD of the 2007 game can be pre-ordered, and copies of the 2001-06 Monon discs remain available.
Wabash leads the all-time series 53-51-9, while DePauw leads in games played for the Monon Bell by a 35-34-6 count.
The Monon Bell Classic "is one of the most storied rivalries in college sports, having been chronicled by Sports Illustrated and others," wrote Jeff Rabjohns last fall in the Indianapolis Star. In 2005, the annual clash for the railroad bell was voted Indiana's best college sports rivalry by fans of ESPN.
Visit DePauw's official Monon Bell Web page, where you'll find historic information including statistics and "Monon Memories" of past games.
Back