Year's-Best Book List Includes Animal, Vegetable, Miracle by Barbara Kingsolver '77
October 29, 2007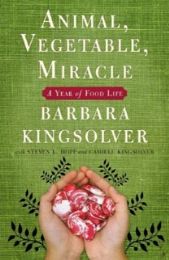 October 29, 2007, Greencastle, Ind. - Hudson Booksellers' list of 2007's best books includes Animal, Vegetable, Miracle: A Year of Food Life by Barbara Kingsolver, a 1977 graduate of DePauw University. Kingsolver's work is cited as one of the 10 best non-fiction releases of the year. Other honorees include Al Gore (The Assault on Reason), Christopher Hitchens (God is Not Great) and Tom Brokaw (I Am America).
Hudson Booksellers operates 66 full-service bookstores and sells books in over 400 Hudson News newsstands in airports and transportation terminals throughout North America. Hudson's book sales were close to $100 million last year.
"Travelers are generally in a hurry, so we have to prioritize and find creative ways of communicating our enthusiasm for various titles," says Sara Hinckley, a Hudson vice president. "We think
celebrating our favorite books of the year makes a strong statement. Our goal is to help customers connect to great reads quickly, especially during the hectic holiday travel season. The lists will be prominently displayed in all Hudson Booksellers and large Hudson News stores, starting December 1."
Access the complete announcement by clicking here.
Barbara Kingsolver, a zoology major at DePauw, has authored 12 books of fiction and nonfiction, including The Poisonwood Bible and The Bean Trees. She was recently named the 2007 "Food Writer of the Year" by Bon Appetit magazine. Details can be found in this previous story.
Kingsolver delivered the commencement address at DePauw in 1994.
Back