A Record 21.8 Million 'Hits' and 5.5 Million Page Views Here in October
November 1, 2007
November 1, 2007, Greencastle, Ind. - An all-time record high of 21.8 million "hits" were registered on this Web site last month, and the record for page views was also shattered. Traffic at DePauw.edu has essentially doubled since 2004.
The October 2007 total of 21,875,953 hits eclipsed the previous all-time high mark of 21,637,770, which was set in April 2007. The page view total of 5,580,534 bests a record that was set last month -- 4,767,090 -- by more than 80-thousand. March 2007 still holds the record for unique visitors (393,159) and visits (1,293,553).
The records fell during a month in which the campus was virtually empty for a week as the University observed its fall break. That said, it is important to note that about 90% of the visitors to the site are not DePauw students, alumni, parents, faculty or staff.
In fact, the statistics show that many visitors are drawn to DePauw's Web site every day by Internet searches and links they find within other Web pages and blogs.
The top destination for visitors to DePauw.edu was -- as it is every month -- news. A total of 111 new stories appeared in the news section of the site last month (even more were added to the athletics area). The most popular articles included news that DePauw's tickets for the Monon Bell Classic sold out; the dedication ceremonies for the Judson and Joyce Green Center for the Performing Arts and the Janet Prindle Institute for Ethics; Robert F. Kennedy Jr.'s lecture and other DePauw Discourse 2007 events; an update from the Board of Trustees' fall meeting; the visit of Indiana Gov. Mitch Daniels (pictured above right) to campus; a Wall Street Journal story which quoted a DePauw senior; a preview of an appearance by 1998 graduate Drew Powell on NBC's The Office; A People magazine feature on Jeri Kehn Thompson '88; and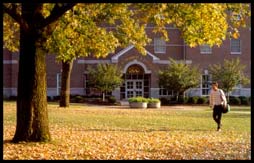 an article describing how DePauw is contributing to Putnam County's "commercial and industrial boom."
Other popular destinations included the athletics page, the campus calendar and the University libraries.
The average visitor spent 16 minutes and 32 seconds, per visit, at this Web site. At least 6% of the traffic came from foreign countries, the top ten being: Canada, Australia, United Kingdom, Netherlands, China, Sweden, Germany, Mexico, Japan, Singapore, Ireland, France, Spain and Korea.
| | | | | |
| --- | --- | --- | --- | --- |
| | Hits | Unique Visitors | Visits | Page Views |
| October 2007 | 21,875,953 | 340,553 | 1,095,174 | 5,580,534 |
| Oct. 2006 | 19,666,003 | 329,368 | 1,149,184 | 4,578,553 |
| Oct. 2005 | 16,879,574 | 203,725 | 845,230 | 3,832,004 |
| Oct. 2004 | 10,616,953 | 148,037 | 550,097 | 2,906,110 |
| Oct. 2003 | 8,874,673 | 96,711 | 436,672 | 1,950,440 |
| Oct. 2002 | 7,425,617 | 72,581 | 362,324 | 1,340,800 |
| Oct. 2001 | 5,979,649 | 49,996 | 264,170 | 1,080,010 |
| Oct. 2000 | 3,220,831 | 28,797 | 167,420 | 840,85 |
("hits" is a count of all the successful hits including HTML pages, pictures, forms, scripts and files downloaded; unique visitors counts each user once per month; visits counts every time a user visits the site)
Back