Ken Owen '82 to Address Statewide Conference November 9
October 31, 2007
October 31, 2007, Greencastle, Ind. - Ken Owen, executive director of media relations at DePauw and 1982 graduate of the University, will be among the presenters at the fall conference of Indiana-Council for the Advancement and Support of Education (I-CASE). Owen will discuss "Taking Advantage of Campus Special Events" at the November 9 gathering, which takes place at Rose-Hulman Institute of Technology in Terre Haute.
As part of his responsibilities, Owen oversees the Timothy and Sharon Ubben Lecture Series (which welcomed Ralph Nader last month), led the negotiations that brought Robert F. Kennedy Jr. (seen in photo below) to campus for DePauw Discourse, and is the University's coordinator for the national telecast of the Monon Bell Classic. His work recently led to a three-year agreement with Mark Cuban and HDNet to televise the great rivalry through 2009, and he created the "Monon Memories" of past battles for the Bell, which now number 69. Owen also produces DVDs for the Monon Bell, commencement, and Alumni Reunion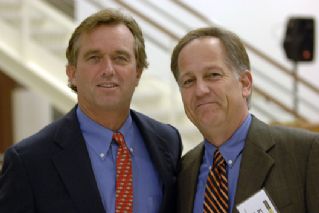 Weekend.
According to the conference's Web page, Owen and David Cox, marketing director for Sisters of Providence and St. Mary-of-the-Woods, will examine "how campus events, guest speakers and special occasions can draw attention to your institutions and reinforce your college's reputation with alumni, opinion leaders and special friends." It points out that DePauw alumni will gather at more than 60 parties around the nation to watch the November 10 Monon Bell telecast, and that the University "has hosted such distinguished speakers as Mikhail Gorbachev, Margaret Thatcher, Mike Krzyzewski and Paul Bremer."
Founded in 1961, the Indiana Council of Administrators of Special Education advances professional leadership demonstrated through effective educational services for all students. Click here for conference details, or visit the organization online.
Back