Tim Collins '78 to be Honored by Manhattan's HealthCare Chaplaincy
November 1, 2007
November 1, 2007, Greencastle, Ind. - Timothy C. Collins -- founder, senior managing director, and CEO of Ripplewood Holdings LLC and 1978 graduate of DePauw University -- will be honored November 8 at The HealthCare Chaplaincy of Manhattan's annual "Wholeness of Life" benefit and awards dinner. Collins is the event's 2007 "community honoree," who is chosen from among leaders in the corporate, business, and philanthropic communities, and is recognized for commitment and dedication to promoting wholeness of life.
"Tim will be introduced at our event by another notable DePauw graduate and HealthCare Chaplaincy friend, Vernon Jordan ['57]," notes Steve Shannon, director of marketing and communications for The HealthCare Chaplaincy. "To add to the DePauw connection, one esteemed member of our board of trustees is Janet Prindle '58, who will also be in attendance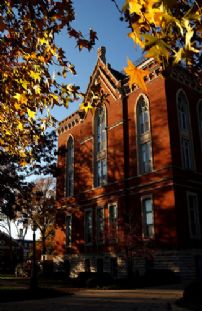 at the dinner on November 8."
At the black tie event, which will take place at Cipriani 42nd Street in New York City, the Chaplaincy "will recognize and celebrate the dedication and accomplishments of those who represent the core mission, to care for the whole person -- spirit, mind, and body," notes the organization. "Professionals in healthcare and business will be honored at this 21st annual 'gathering of friends.' Lifetime achievement, community honoree, and patient care honoree are the three award categories, and there will be a total of sixteen recipients."
"All of our honorees have made compassionate service to others a priority in their lives, similarly to our multifaith chaplains who serve alongside them," says the Rev. Dr. Walter J. Smith, S.J., president and CEO of The HealthCare Chaplaincy. "These individuals demonstrate wholeness in their own lives and in the treatment of others."
An announcement from the Chaplaincy notes that Tim Collins ""lends his management expertise and support to a number of not-for-profit and public sector organizations, including the Yale Divinity School of Management Advisory Board; the American Friends of the British Museum; the Board of Overseers of the Weill Cornell Medical College; the
Carnegie Hall Society; and The Council on Foreign Relations and the Trilateral Commission."
Founded in 1961, The HealthCare Chaplaincy is a leading international center for multi-faith pastoral care, education, research, and consulting. Learn more about the Wholeness of Life event here, and visit the organization online.

[Download Video: "Timothy C. Collins '78" - 976kb] "From DePauw I received many things: a first-rate education with genuine analytical rigor," said Tim Collins as he was awarded an honorary Doctor of Humane Letters degree from his alma mater on May 22, 2005. "I left DePauw with an enduring hunger for truth. Studying philosophy here with great and caring teachers was an innoculation against intellectual complacency. Having exceeding healthy contempt for conventional wisdom has served me very well." Read more about the event in this summary.
Back