DePauw Gives Division I Indiana State "Almighty Scare" in Men's Exhibition Game
November 2, 2007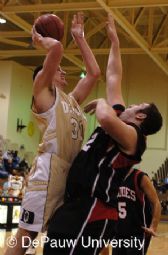 November 2, 2007, Greencastle, Ind. - In last night's exhibition basketball game at Indiana State University, "The Sycamores eventually prevailed 77-68, but the Tigers gave them an almighty scare, leading for most of the game," reports the
Terre Haute Tribune-Star
of the matchup between Division I ISU and Division III DePauw. The Tigers outrebounded their hosts, "shot 46.7 percent from 3-point range in the first half, which helped them build a 27-15 advantage," writes Todd Golden, adding, "DePauw tied it at 66 for the final time with 1:33 to go."
Golden's summary begins, "DePauw men's basketball coach Bill Fenlon put it best when explaining the contrast between a team learning a new system -- as Indiana State was Thursday in its first exhibition game of the season against his Tigers -- and a team ingrained in an established one as DePauw has been in Fenlon's 16 seasons in Greencastle. 'It's like cracking a code.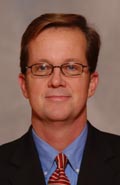 You pound away and eventually you're in. You can decipher everything and play,' Fenlon said. 'But until you crack the code, you're not really playing basketball, you're thinking about what you're going to do next. In this game if you're thinking and not reacting, you're late.'"
ISU's new head coach Kevin McKenna tells the newspaper, "Coach Fenlon's a smart guy. That's exactly what I told our team after the game. We are thinking too much right now and we're trying not to make mistakes. When that happens, you don't play instinctive basketball and your talent and effort don't come through."
Read the complete article, "Sycamore men escape Tigers' grasp in exhibition win," at the Tribune-Star's Web site, and find comprehensive coverage at the team's official page.
DePauw opens the regular season on November 16 when it takes on Illinois Institute of Technology in Manchester's Tipoff Tournament.
Back