Chronicle of Higher Education Features Prof. Scott Wilkerson's Contributions to New, Interactive Geology Textbook
November 3, 2007
November 3, 2007, Greencastle, Ind. - "Rocks, contrary to popular belief, do move. They just do it slowly, over the course of hundreds of thousands of years," notes the
Chronicle of Higher Education
. "The pace doesn't make for scintillating geology lectures or textbooks. So geologists Stephen Marshak and M. Scott Wilkerson have decided to goose them with
Google Earth
."
Wilkerson is associate professor and chair of geosciences at DePauw. He and Marshak have collaborated on a new edition of the textbook,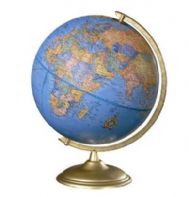 Earth: Portrait of a Planet. Scheduled to be published this month by W.W. Norton & Company, "the two professors have added Geotours, a CD that guides students on instant virtual field trips using Google Earth, the search company's Web-based global mapping program," writes the Chronicle's Josh Fischman. "It's a way to see geology in action. Students can fly over the Grand Canyon, the Amazon, or the peaks of the Alps, among other places, and dive down to get up close."
Dr. Wilkerson created the supplemental materials and is lead author on the workbook that accompanies the main textbook.
Read more at the Chronicle's Web site.
Back