Judson Green '74 Keynotes Community Foundation's 10th Anniversary Celebration
November 4, 2007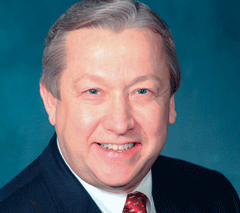 November 4, 2007, Greencastle, Ind. - "I'm very excited to be back here because I think this is a wonderful concept for people to connect with each other, to care for each other," Judson C. Green, president and CEO of NAVTEQ and 1974 graduate of DePauw University, said last night in his hometown of Quincy, Illinois. "This is one of the many strengths of the community." Green was the featured speaker Saturday at dinner marking the tenth anniversary of the Community Foundation of the Quincy Area. The event is covered in today's Quincy Herald-Whig.
"Whether we stay in Quincy or go elsewhere, you look back and it's the people you connected with; the values you developed; the experiences you had, the mentors, friends and teachers that made an impact on your life," Green told an audience of about 200 people. "This is a celebration of all those positive
forces in people's lives ... I'm confident this (the foundation) is going to grow and become stronger in the years ahead."
Launched with donations of $1,050, the foundation now comprises more than 70 charitable funds. "More than 490 grants totaling in excess of $800,000 have been awarded to not-for-profit organizations that serve arts and culture, community betterment, education, health and human services," writes Rodney Hart.
The article notes Nokia's recent acquisition of NAVTEQ, and that "Green served as chief financial officer and president of Walt Disney Co.'s theme park and resort division until the navigational software company recruited him in 2000 ... The former president of Walt Disney Attractions, Green grew up in Quincy and graduated from Quincy Senior High School in 1970. In 1974, he received his bachelor's degree in economics with a minor in music composition from DePauw University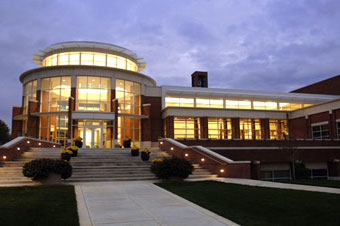 in Greencastle, Ind. He earned his master's in business administration from the University of Chicago in 1976." Judson Green is a member and former chair of DePauw's Board of Trustees.
Read more at the newspaper's Web site.
A lead gift by Judson and Joyce Taglauer Green '75 made possible the $29 million expansion and renovation of DePauw's Performing Arts Center. Now known as the Judson and Joyce Green Center for the Performing Arts, the building was dedicated on October 25 in an evening which featured a performance by New York's acclaimed Orpheus Chamber Orchestra. A summary of dedication -- including video and audio clips and photographs -- can be found in this article.
Back