Tigers Capture First SCAC Field Hockey Crown
November 4, 2007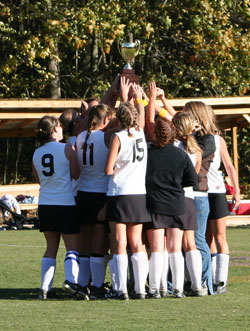 November 4, 2007, Sewanee, Tenn. - DePauw opened Southern Collegiate Athletic Conference play in mid-September with losses at Centre and Sewanee, but this weekend it avenged both and, today, won its first SCAC title with a 3-2 win over host Sewanee.
Katie Sowar delivered the game-winning goal with just under seven minutes left and the Tigers held on for the win which lifted their season record to 12-8.
DePauw took a 1-0 lead on Carolyn Mueller's unassisted goal at 15:05 before Sewanee's Carly Grimm scored early in the second half on Marcy Tickner's assist t 36:28.
The Tigers regained the lead on Meredith Ellis' goal at 48:16 before Lynn Hancock knotted the score at 2-2 at 53:52 with Tickner assisting again.
DePauw outhsot Sewanee 25-14 and Sewanee held a 9-8 edge in corners. The Tigers' Liz Attewell totaled 11 saves, while Clarkie Crawford had 15 for Sewanee.
Back