Jeff Pierson '82 On Cover of Indianapolis Monthly; Thomas Dugan '82 Also Featured
November 6, 2007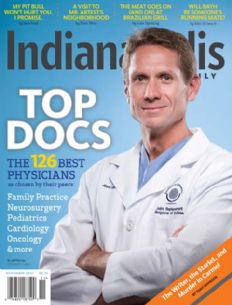 November 6, 2007, Greencastle, Ind. - Jeff Pierson, orthopedic surgeon and medical director for the St. Vincent Center for Joint Replacement, is featured on the cover of the current issue of Indianapolis Monthly. Dr. Pierson, a 1982 graduate of DePauw University, is among the "Top Docs" listed inside the magazine and is the subject of one of eight full-page physician profiles, as is his DePauw classmate, Thomas C. Dugan, president of Cancer Care Group.
"Chances are good that if you break a hip or blow out a knee, you'll end up on Dr. Jeff Pierson's operating table," writes Laura Musall. "Pierson does more hip and knee replacements than any other surgeon in the state -- 750 or more a year, or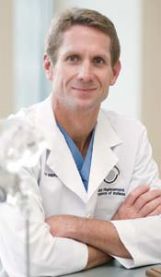 more than 15 a week. His patient list reads like a who's who of Indianapolis, including NFL coaches, business-owners, and his own business partner," notes the text. "It's exactly the kind of life-changing work that Pierson wanted to do when he decided as a teenager at Covington High School -- located in west-central Indiana -- that he wanted to be a doctor. After earning his undergraduate degree at DePauw, he attended medical school at Johns Hopkins University and chose orthopedic surgery, a specialty he believed could truly improve a patient's quality of life. Later, he narrowed that focus to include only hips and knees. After a Harvard fellowship, he came to the Joint Replacement Surgeons of Indiana."
"The aging population has higher expectations than they did 50 years ago," Pierson, a zoology major and Rector Scholar at DePauw, tells the magazine. "They want to stay active;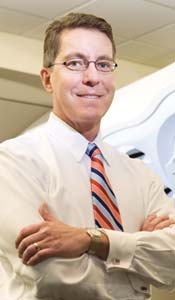 they want to travel; they want to do things."
Fellow 1982 graduate Dr. Tom Dugan leads "the largest group of radiation oncologists in the state, and much of his work focuses on the treatment of prostate cancer," writes Julia Spalding. "At St. Francis and Methodist hospitals, he introduced prostate brachytherapy, a method of treatment that involves implanting radioactive 'seeds' into a tumor."
"A hot topic right now in oncology is targeted therapies," Dugan tells Indianapolis Monthly. Also a Rector Scholar who majored in mathematics at DePauw, he adds, "In radiation, we've always been interested in putting the radiation where the cancer is and keeping it away from normal, healthy structures. The old way we did this was to plan everything out using X-rays and scans, and then we'd leave marks on the skin to align the radiation beams to an internal organ, like a prostate. Now, we can actually perform a CAT scan on the treatment table immediately before they're treated."
Access the profiles of Jeff Pierson and Thomas Dugan, or visit the magazine's home page. The November issue is on newsstands now.
Back