Communication & Theatre Faculty Members to Present at National Conference
November 8, 2007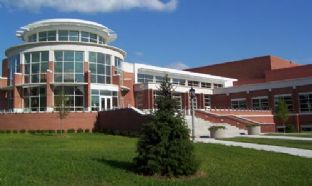 November 8, 2007, Greencastle, Ind. - Five faculty members in DePauw University's department of communication and theatre -- Jennifer Adams, M. Susan Anthony, Geoffrey D. Klinger '88, Kent E. Menzel and David L. Worthington -- will make presentations during the 93rd annual convention of the National Communication Association (NCA). The event, with a theme of "Communicating Worldviews: Faith-Intellect-Ethics," will take place in Chicago, November 15-18.
The following are the faculty members and the titles of their presentations:
Prof. Adams "Self-Fashioning: The Use of Styles as Rhetorical and Political Strategies" and "Print, Privacy, and Politics in Modernist Rhetoric".
Prof. Klinger: "Beating around the Bush: The Dire Consequences of the War on Terrorism"
Prof. Worthington "The 'Sad' Citizen: Sadness as a Response to Trauma at the United States Holocaust Memorial Museum" (selected as a top paper in the NCA's American studies division)
Professors Anthony and Menzel are scheduled to present during the NCA's legislative assembly meeting.
Faculty members Melanie K. Barnes-Finney, Tim Good, Susan R. Wilson and emeritus professor Robert O. Weiss will also attend the conference and participate as respondents in sessions.
The convention will include more than 1,200 sessions involving in excess of 4,000 participants. The programs will "encourage participants to examine communication within the discipline, society or world through a literal, metaphorical, or virtual lens," notes the conference's Web site.
Learn more by clicking here.
Back