Prof. Emeritus Dan Hanna '47 Passes Away at 84
November 8, 2007
November 8, 2007, Greencastle, Ind. - Dan Hanna, professor emeritus of music and director emeritus of University bands, died November 6 at Putnam County Hospital. He was 84. Hanna, a 1947 graduate of the University, was a member of the DePauw School of Music faculty for 35 years, retiring in 1988.
Daniel Hovey Hanna was born in Greencastle on January 27, 1923. A Rector Scholar, he earned an A.B. from DePauw in 1947 and an M.A. from the University the following year, then headed to Andalusia, Alabama, where he served as director of instrumental music in the Andalusia City Schools for four years. He returned to
DePauw as a faculty member in July 1952.
The professor authored articles on various phases of the band curriculum which were published in Instrumentalist, Woodwind, Music Educators' Journal and The School Musician. Hanna was a member of the Music Educators National Conference and a charter member of the Indiana Bandmasters Association, which he served as president during 1962-63. He was also a member of the 624th Army Air Force Band in Hondo, Texas, during World War II.
Known as much for his sense of humor as his teaching and music, Hanna created the "Tarnished Spit Valve Award" in 1958, which he presented to "some real characters" in his bands through the years. In a 1987 interview, he stressed, "I'm a teacher. I'm not a performer. At one time, I was a good-to-mediocre French horn player... or a mediocre-to-good French horn player is a better way to say it."
Hanna organized band reunions for the 1976 opening of
DePauw's Performing Arts Center and for his final Old Gold Day as band director in 1987, when about 70 former band members dating back to 1933 played alongside the then-current students. The 100+ member combined group performed some of the professor's favorite songs in a "Salute to Dan Hanna."
One of Dan Hanna's favorite annual campus traditions was the Monon Bell game. "My philosophy for the Wabash game has always been: 'get on the field and get the hell off quick.' You never know what might happen," he joked.
Hanna had special memories of the 1977 Monon clash. "I recall I was in Indianapolis for some reason, on a Wednesday. And when I came back home at noon, my wife told me, 'You'd better sit down.' Tom Mont (coach and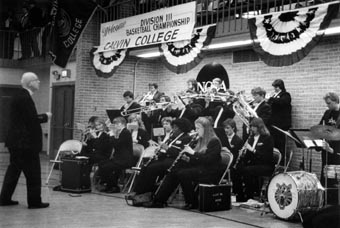 athletic director at the time) had just called. She said, 'He thought you might like to know that the Wabash game is going to be on regional TV.'" With only a Thursday rehearsal and Saturday morning rehearsal, Hanna readied a program that proved to be a typical crowd pleaser. "We formed a banana on the field, and slowly peeled it as we played The Stripper," he chuckled.
That halftime performance was carried live on ABC and introduced by play-by-play announcer Jim Lampley. Here is vintage video of the band from
November 12, 1977:

[Download Video: "1977 Monon Halftime Performance" - 13,422kb].
Also available is film footage from 1980.
Dan Hanna's father, Sam, designed and built the first DePauw bookstore. His son Steve taught percussion at the University. "Hanna Street is no relation at all," the professor once quipped.
Services will be conducted at 11 a.m. Monday at Bittles and Hurt Funeral Home, Greencastle. Visitation will be 3-7 p.m. Sunday at the funeral home. A private family burial will at the Forest Hill Cemetery.
Back