"Motivational Factor Already There" for Coach Matt Walker '99 and Tigers
November 8, 2007
Also: HDNet to Televise 114th Monon Bell Classic; List of Alumni Telecast Parties; Parking & Public Safety Information; Order Your Monon Bell DVD Here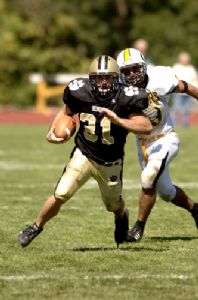 November 8, 2007, Greencastle, Ind. - "With a healthy senior running back Jeremiah Marks (768 yards on 168 rushing attempts) and a sound passing attack with sophomore quarterback Spud Dick (2,162 yards and 16 touchdowns), the Tigers have just as potent an offense as the Little Giants," notes today's Paper of Montgomery County in a preview of Saturday's 114th Monon Bell Classic. The nationally televised, sold out game pits DePauw, 7-2, against an undefeated Wabash team (9-0). Kickoff is set for 1:07 p.m. at Blackstock Stadium.
The newspaper story by John Groth (DePauw '04) points out that Marks missed three games due to injury this season, but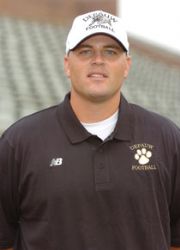 still leads the Southern Collegiate Athletic Conference in rushing. "We've got our big horse healthy and running again," says DePauw head coach Matt Walker '99. "We clearly had a rough stretch there without him, losing two of three games with two of those games in our league."
Walker, a Crawfordsville native, "has viewed the Monon Bell game from nearly every perspective," writes Groth. "He's attended as a fan. He's participated as a player. He's worked as an assistant coach and now serves as the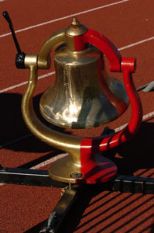 Tigers' coach." Saturday's contest will be his first home Monon Bell game as a head coach.
"It means a lot to me and the program," says Walker, who is 13-6 in two years at the Tiger helm. "Being part of it for so long, you kind of know what you're getting into. You don't need any added meaning to it. The motivational factor is already there. The kids are fired up whether a team is 0-9 or 9-0."
Access the complete story by clicking here.
All 8,000 tickets for Saturday's game sold out two weeks ago. The 114th Monon Bell Classic can be seen on HDNet. Learn more about the telecast, alumni parties planned across the USA, ordering a DVD of the game, and parking information via links found in this previous article.
Back