Butler's Brad Stevens '99 Prepares for His First Season as a Head Coach
November 9, 2007
November 9, 2007, Greencastle, Ind. - "I've worked in an environment for a person that empowers you to think like a head coach," Brad Stevens, Butler University's new head men's basketball coach and 1999 graduate of DePauw University, tells Sports Illustrated.com. "Coach Lickliter and Coach Matta both did that." Stevens took the top job after serving as an assistant coach at Butler under Thad Matta and Todd Lickliter, who resigned in the spring to take the top job at Iowa.
Stevens says his predecessors "wanted us to think like a head coach every day. What happens then is, in practice situations, when you have your own team, or you have the scout team, and that is how you learn and build and get a chance to become a head coach. Those stepping stones and the things they allowed me to do and the freedom they allowed and trust they showed was invaluable in me feeling comfortable to be able to take on this role."
The article notes that Stevens, 31, is the second-youngest head coach in Division I. Bill Trocchi writes, "In the last 11 years, the Bulldogs have reached six NCAA tournaments and three NITs, and with five seniors on this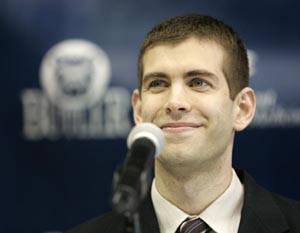 year's squad, led by [A.J.] Graves, expectations are Butler will reach the NCAA tournament again. That will mean learning on the fly for Stevens, who finished his college ball at DePauw in 1999." Butler opens its season tonight at Ball State University.
Read the complete story at SI.com.
Learn more about Brad Stevens in this previous article.
Back