Joel Hand '92 Appointed Indiana Dept. of Education Legislative Liaison
November 8, 2007

November 8, 2007, Greencastle, Ind. - Joel D. Hand, a 1992 graduate of DePauw University, has been appointed the Indiana Department of Education's new director of legislative and governmental relations. Hand comes to the post after serving as the Fatal Alcohol Crash Team (FACT) prosecutor and supervisor for Superior Courts 4, 5 and 6 in the Hamilton County, Indiana prosecutor's office.
In his new role, "Hand will support efforts to develop and communicate the agency's legislative priorities to the members of the Indiana General Assembly as well as to the public, educators and various government agencies partnering with the Indiana Department of Education," notes Inside Indiana Business. "As a member of State Superintendent of Public Instruction Suellen Reed's executive cabinet, Hand will offer policy advice while also reviewing and analyzing legislation that has been proposed to address education issues."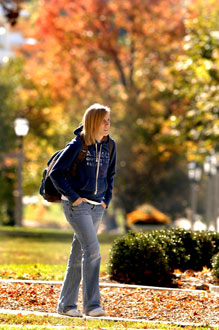 "Joel brings a wealth of knowledge and expertise that will no doubt prove invaluable in carrying out our legislative objectives on behalf of Indiana students and schools," Dr. Reed says.
"I am excited to have an opportunity to serve as legislative liaison for Dr. Reed and the Indiana Department of Education," adds Hand. "It is my hope that I will be able to help facilitate the exchange of information between the department of education and the Indiana General Assembly for the purpose of maintaining and improving upon quality education for all Hoosier school children."
The story points out that Hand "attended DePauw University in Greencastle where he fulfilled an internship under the Indiana Department of Education's legislative liaison before graduating in 1992. He is also a 1995 graduate of Indiana University School of Law."
Read more at Inside Indiana Business.com.
Back